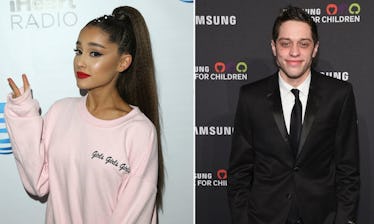 Ariana Grande Posted Another IG Pic With Her Boyfriend & The Caption Is Amazing
JESSE GRANT & BRYAN BEDDER/GETTY IMAGES ENTERTAINMENT/GETTY IMAGES
Ariana Grande and Pete Davidson are the couple of the moment that literally no one saw coming, but I just can't seem to look away from their online antics. They've only been together for a hot minute, but they've got more Instagram official moments, tattoos, and flirty commentary than most couples I know at the six-month mark. Now, Ariana Grande's Instagram caption about Pete Davidson proves that this honeymoon phase isn't going anywhere anytime soon.
It looks like there's some truth to the adage that the couple that laughs together, stays together after all, because I've definitely been seeing more of Ariana Grande's comedic side since she got together with the SNL funnyman. Maybe the "No Tears Left to Cry" songstress is just as weirded about their relationship timeline as we all are. Then again, maybe she's just not afraid to poke fun at the whole situation, because her latest Instagram caption totally makes fun of how crazy in love she and her new beau are. TBH, it'll make you LOL.
On Saturday, the pop singer had the best tongue-in-cheek response to all the attention the pair's flirty AF social media interactions have been getting.
"I am but a pete davidson update acc stay tuned for more (pete follows / comments sumtimes)," she captioned a slightly blurry photo of the lovebirds caught in a silly moment with both of their tongues sticking out.
If you think about the context of this photo, it's pretty hilarious. One second Davidson was with his ex girlfriend, Cazzie David, and Grande was dating rapper Mac Miller. This is where their relationship timeline gets pretty fuzzy, because all of the sudden he and Grande were professing their love to the world with flirty Harry Potter-inspired social media exchanges (Slytherin, anyone?). Then, Davidson got not one, but two tattoos of Grande, and the Twitterverse went into meltdown. Since then, the new couple has only been trifling with our emotions left and right. There was even that one comment where the singer implied she wanted to have Davidson's baby, and I think that left most of us pretty confused.
Now Grande is fangirling over the comedian, and she doesn't care who knows it.
So I just wanna know: Has the couple been trolling us this whole time? Is she actually hoping to have Davidson's babies ASAP? Will she get two "Davidson" tattoos? Only time will tell, but it looks like they really might be all in, especially given some of Davidson's recent comments about his beau.
While performing at Los Angeles comedy club, Hollywood Improv. on Thursday, June 9, Davidson was reportedly asked about his relationship with the singer, and his response was so mushy and endearing (and literally everything I'd hope any love interest of mine would say about me, OK?!).
Reflecting on the experience, an audience member from the crowd reportedly told E! News,
The first thing he responded with when they asked about Ariana was 'it's pretty dope huh?' And that's when he started saying how he felt so lucky like he won the lottery and couldn't believe he was so lucky. He said he's gonna 'ride this one out!' After that, he kind of got into more of a comedy act, but it was pretty sweet because that was the most genuine and happy he seemed during the whole thing.
Excuse me, my knees just turned to noodles.
Yep, between their cute jokes, heart-wrenching social media posts, or admirable public declarations of love for one another, these two clearly have this whole relationship thing on lock. Ahhh, young love. It's so great.