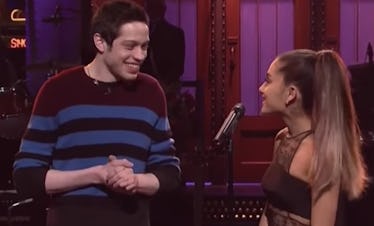 Pete Davidson Swooned Over Ariana Grande At His Standup Show: "It's Pretty Dope"
Anybody who's ever been in a long-term relationship can tell you all about their honeymoon phase. TBH, it's so damn real. You can immediately tell when a couple appears to be honeymooning, because it almost seems impossible for them to talk or think about anything (or anyone) other than their new boo. And it looks like my number one favorite Saturday Night Live comedian can 100 percent relate, because last week, Pete Davidson swooned over Ariana Grande at his standup show. Based on what he said, you can totally tell they're amidst some hardcore honeymoonin' right now.
On Thursday, June 9, Davidson performed at Los Angeles comedy club, Hollywood Improv. According to E! News, the audience naturally wanted to know all about his latest relationship with "No Tears Left To Cry" pop singer, Ariana Grande (because, seriously, who wouldn't want to know everything?). When an audience member reportedly shouted out a question and asked about his new relationship with Grande, his response was so endearing. It totally shows that he and Ari are in love, and I am swooning, y'all.
An audience member from the crowd reportedly told E! News,
The first thing he responded with when they asked about Ariana was 'it's pretty dope huh?' And that's when he started saying how he felt so lucky like he won the lottery and couldn't believe he was so lucky. He said he's gonna 'ride this one out!' After that, he kind of got into more of a comedy act, but it was pretty sweet because that was the most genuine and happy he seemed during the whole thing.
OK, so, if that didn't leave your heart in a damn puddle, then don't even try talking to me. Next, you'll probably try telling me that puppies aren't even cute.
Another sign that Davidson is totally away on his honeymoon: He made it clear that he doesn't want to do anything other than hang out with Grande. I'm honestly OK with that, because they're pretty much the couple of the year. Davidson literally admitted on stage that he didn't prepare anything for his show, because he'd rather be with Ari, and the mushiness is so freakin' real.
Another audience member reportedly told E! news,
[Pete] said he didn't have a skit prepared because he didn't really want to be there and he said he's really happy and life's good so there's nothing to complain about. Someone in the crowd yelled Ariana's name and said how attractive she is and he smiled but really didn't want to give much info other than that it's pretty cool how he got someone like her.
News of the couple in question originally surfaced on Monday, May 21, just 10 days after Grande announced her split from longtime boo, Mac Miller. When the story first broke, a source reportedly told E! News that the relationship had "just started and is casual." But based on Davidson's affectionate and lovable comments at Hollywood Improv, it looks like things are escalating pretty quickly — and TBH, I am so into it.
Long-term relationships are usually pretty amazing through and through, but there's something really special about a couple's honeymoon phase. Everything is super fresh, and doing anything without your boo seems like a chore. It's pretty clear that Davidson is in the middle of experiencing this right now, getting super gushy about the pop star on stage and wishing he was with her at every moment. Davidson and Grande are seriously #CoupleGoals, and if someone could just lend me a mop at some point today, that would be swell. I am a literal puddle on the floor, don't mind me.