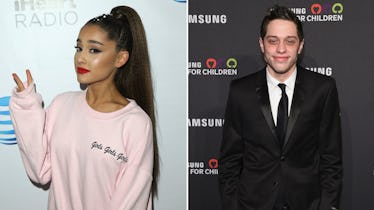 Ariana Grande & Pete Davidson Are Already Joking About Having Kids, So Things Are Serious
Jesse Grant & Bryan Bedder/Getty Images Entertainment/Getty Images
If you aren't Ariana Grande or Pete Davidson then you can take a freaking hike. I don't care about anyone else right now. The new lovebirds are so clearly wild about each other and Grande's latest comment about babies on Davidson's Instagram just took it a step further. Ariana Grande and Pete Davidson's joke about having kids is honestly pretty freaking extra, but it's carrying me through my work week and giving me ~life~, anyway.
So, where were you when you found out Grande and Davidson were a thing? Honestly, I was still mourning Grande's breakup with Mac Miller and Davidson's breakup with Cazzie David, but I got over those real quick. The "No Tears Left To Cry" singer and Saturday Night Live comedian came out swinging when they announced their new relationship and wasted no time getting serious. Now, they're joking about babies and making fans' heads explode.
Here's what happened: Davidson posted a picture with his friend Bryan Tyree Henry with the caption, "I'm having his babies." Without missing a beat, Grande commented, "I look so good here." There's no way to be sure exactly what Grande meant, but a pretty convincing theory is that she's jokingly suggesting Davidson is talking about her and saying she's actually Henry in the photo. She also included a heart-eyed emoji because, duh.
I want to say "slow your roll," but this is just too much fun. It's wild enough in your average every-day relationship to joke about babies, let alone in a new celebrity relationship in front of the whole world.
The social media flirting hasn't stopped since Davidson made their relationship Instagram official at the end of May. Sure, Grande basically confirmed they were dating when she shared a video of her and Davidson roasting marshmallows together over Memorial Day Weekend. But, Davidson confirmed it when he shared a picture of himself and Grande dressed up in Harry Potter clothing and captioned the image, "the chamber of secrets has been opened." Again, Grande flirtatiously commented back saying, "u tryna slytherin (i'm deleting my account now)."
As for those tattoos, Davidson appears to have gotten Grande's initials tattooed on his thumb and her Dangerous Woman bunny mask stamped on his neck. If "I want a permanent reminder of you and your name and your work inked onto my body forever" doesn't say "this is serious," I don't know what does.
Honestly, the tattoos are kinda awesome.
The thing that makes this couple so fun is that they both seem to be equally invested in each other. While Davidson was apparently getting inked up, Grande was sharing a sweet photo of him wrapping his arms around her and kissing her cheek. She captioned it, "i thought u into my life 💭 woah ! look at my mind 💡⚡️🙈"
Ah, famous, young, love.
But, nothing comes easy. In the beginning, Davidson got flack from some miserable trolls for having been recently diagnosed with borderline personality disorder. This led him to write a thoughtful message on Instagram about dating and mental health. He wrote:
i been hearing a lot of "people with bpd can't be in relationships" talk. i just wanna let you know that's not true. just because someone has a mental illness does not mean they can't be happy and in a relationship. it also doesn't mean that person makes the relationship toxic ... i'm simply writing this because i want everyone out there who has an illness to know that it's not true and that anyone who says that is ill and full of sh*t ... for all those struggling i want you to know that i love you and i understand you and it is going to be okay.
You heard the man. Just let the happy couple live, you guys! (And have babies or whatever.)
Check out the entire Gen Why series and other videos on Facebook and the Bustle app across Apple TV, Roku, and Amazon Fire TV.