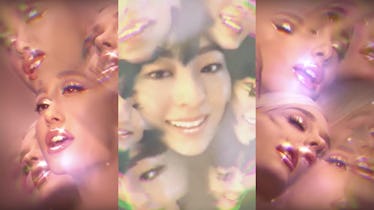 Ariana Grande Designed Her Own Camera Effect For Instagram & It's So Cute
Instagram is seriously on its game right now, and it's showing no signs of slowing down. Within the past month, the photo-sharing giant has gifted its users with ways to interact on the app with rainbow-hued Pride features and personalized mentions, as well as the highly anticipated IGTV console. Now, three new game-changing features are here, and they're even better than I expected. One of them is a camera effect made by a popular singer. In fact, Ariana Grande's Instagram camera effect is designed by her, and it will make your Story so glam with serious "No Tears Left To Cry" inspiration.
On May 1, Instagram first announced that it would be rolling out Video Chat, Topic Channels in Explore, and Camera Effects (my personal favorite). The company released the features on Tuesday, June 26, and now that they're available, you can add silly effects or glam filters created by your favorite accounts to your Story. The social media app revealed that both Android and iOS users can now play around with cool Lens features designed by Ariana Grande, Buzzfeed, Liza Koshy, Baby Ariel, and the NBA, according to a press release. There's literally something for everyone.
Here's how to gain access to the new camera effects. The easiest thing to do is to follow the accounts, and the new effects will automatically show up when you go to your camera, according to Instagram. All you have to do is tap the "face" button in the lower righthand corner, and you've got a fun Lens to experiment with. If your feed is already too saturated and you don't want to see content from these accounts, you can still try out the new effects without being a follower. Simply select the effect that you want to try on, and then add it to your Instagram camera.
The Ariana Grande camera effect is currently my favorite option with its cool "No Tear Left To Cry" music video prism effects, and it fittingly dropped on the pop singer's birthday. (Plus, who doesn't want to borrow a bit of her newly engaged, loved-up glow?). However, you'll soon have even more choices to try on. In the press release, the app promises, "This is just the beginning. We're excited to bring new effects from more of your favorite accounts to Instagram soon." Considering that Ariana Grande and her fiancé, Pete Davidson, have made no secret of how crazy they are for each other with all the flirty Instagram comments, will the SNL comedian be debuting his own Lens in the future? I'm not ruling it out.
In addition to the brand new camera lens effects, Instagram is also organizing your Explore page with topic channels that are tailored to your interests. Now, when you click on Explore, your personalized channels will be arranged at the top. It even includes a personalized "For You" section. You can browse through the different channels and hashtags, or "Mute" a topic to stop seeing that channel at the top. Just like when "Muting" an account, you can choose to undo the action at any time.
Meanwhile, the highly anticipated Video Chat feature lets you connect with your friends via video in real time through Direct Message. To start chatting away, open any message thread in your Direct Messages and select the new camera icon in the righthand corner. Get ready to say goodbye to FOMO, because you can video chat with up to four people at a time simply by selecting the camera button in a group thread. In addition, the camera icon will turn blue if your friends are having a video chat in a group thread, and it's so easy to join just by tapping the camera icon.
Instagram's new features are available starting Tuesday, June 26, so users can literally jump right in and start channeling Ariana Grande ASAP. With even more Camera Effects reportedly in the works, I'll be staying tuned for fun Lenses coming to the app soon.