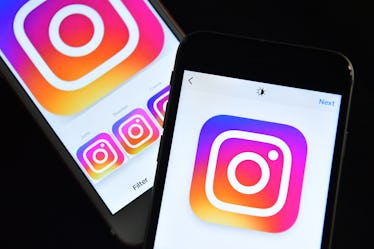 Instagram's New Mute Button Is A Genius Way To Hide Posts Without Anyone Knowing
Carl Court/Getty Images News/Getty Images
You're not imaging things if you think there has been a never-ending stream of Instagram news lately. It appears as though the app has been getting update after update to make the experience that much better for its users. One of the latest updates addresses the issue Instgrammers have raised about only wanting to see posts they really care about in their feed. Instagram's mute button is the perfect way to help you curate your feed, but you might want to know if there are any consequences to silencing some accounts. So, do people know if you mute them on Instagram?
To ease any mute button-induced anxiety, I'll let you know right away that it is a super discrete process. The mute button was announced on the Instagram website on Tuesday, May 22, and this new update from your go-to app will help make your Instagram feed a place you actually want to be while using the app. In short, the mute button lets you hide posts in your feed from specific accounts without having to completely unfollow them.
Previously, the only other was to achieve this end was to unfollow the accounts you didn't love, but the accounts could realize that you unfollowed them (awkward!). With the genius of the mute button, you can hide your not-so-favorite accounts with the tap of a button, and the person on the other end has no clue that their posts are absent from your feed (since you're still technically following them).
Per the release, the new feature will be rolling out "over the coming weeks," so make sure you stay on top of your Instagram updates to get it once the mute button is here. Now that you know you can bid adieu to the Instagram posts of that one girl from college who apparently now moonlights as a food photographer on her Instagram account, you probably want to know how you can put that mute button to good use.
It's so easy to mute the Instagram accounts you'd rather not come across while scrolling in your feed. Per Instagram, all you need to do is go to the account page that you'd like to see much less of in your life, tap on the ellipses (...) in the upper right-hand corner, and then choose your mute preferences. Once you tap "Mute," you can choose to "Mute Posts," "Mute Story," or "Mute Posts and Story." So, if you can't handle one more picture of avocado toast but actually enjoy the daily Stories of a certain someone, you can choose "Mute Posts" to declutter your feed.
Again, the Instagram accounts that you choose to mute from your feed will not be notified of any such action. So, don't let the thought of an awkward "Why don't you follow me on Instagram anymore?" conversation hold you back from ridding your feed of accounts with posts that you don't deem double-tap worthy.
Thanks to the mute button, you can keep your feed so fresh and so clean with only the accounts that you care about the most. As for the Instagram riffraff, you can finally say goodbye (without actually having to tell them).
The new Instagram mute button is a very welcome feature in the app since there is still no solid plan to return the feed to a strictly chronological order. Instagram did announce back in March that the app has made changes to ensure that newer posts appear first in your feed. In the post announcing the change, Instagram explained that it would "ensure that newer posts are more likely to appear first in feed."
The new algorithm combined with the mute button should give you what you need to make sure that your Instagram feed looks exactly the way you want it. And remember, the mute button won't sell you out to those accounts you want to hide, so don't let the fear of breaking social media protocol with the dreaded "unfollow" keep you from muting your way to the Instagram feed of your dreams.