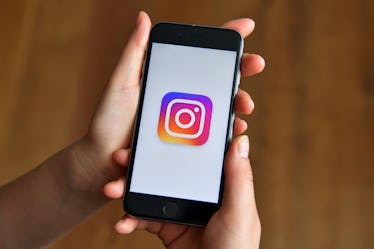 Here's How To Use Instagram's Mute Button If You're Trying To Ignore Your Friends
Carl Court/Getty Images News/Getty Images
Sometimes, the people you follow on Instagram can get really annoying. Maybe it's your colleague who posts too much about her post-college spring break trip to Punta Cana, maybe it's your ex, or maybe it's a friend who incessantly posts about being vegan or doing CrossFit. Whatever the reason might be, sometimes you might just really want to unfollow someone, but doing so can be kind of awkward (especially if it's one of your friends... ya feel me?). So here's how to use Instagram's mute button if you really just don't want to see someone's posts anymore. Byeeee.
Using Instagram's mute button is easier than you think, according to a press release. To do so, simply tap the "..." menu in the corner of the person's post. You'll either be able to choose between muting the account's posts, or muting their posts and their stories. Users can also mute posts and stories by holding down a story in your tray, or by doing so from a user's profile. It's literally that simple, and you won't actually have to unfollow anyone. The best part is that the person won't know you muted them. It's as easy (and as non-confrontational) as that.
Um, is it bad that I'm really hyped about this glorious new feature? No longer will I be forced to look at all my high school friend's gym selfies, or all the gushy #MarriedLife pics from that girl from my freshman year dorm. I would never actually unfollow any of these people (because, hello, that would be so awkward), but I'm so elated that Instagram is finally catering to all of my hopes and dreams, at long last. Praise the mute feature, y'all, because it's keeping me hooked on Instagram, one muted account at a time. See ya never!
The launch of the highly-praised mute feature was officially announced on Tuesday, May 22, but there's a pretty likely chance you still don't have it on your account yet. According to the press release, the mute button will be rolling out within the next few weeks. Some of your friends might get the mute feature before you, but don't worry — I'm sure you'll have it in no time. Also, if you have any questions, the Instagram team recommends visiting the Help Center. They have more information about the mute feature, if you aren't totally clear on how to use it, or why it's there. You'll fall in love with it in no time.
Instagram is also catering to users' wants and needs by testing a feature that will supposedly make up for the app's lack of chronology. They're reportedly testing a feature called "All Caught Up," which is a function that tells users when they've seen all the new posts in their feed from the previous two days. The feature hasn't been rolled out to the general public yet, so only a very small portion of 'grammers have seen the automated message, "You're All Caught Up — You've seen all new posts from the past 48 hours." There aren't really any other other details about the feature at this moment in time, and there's no specified release date yet. Hopefully, it will cure the FOMO stemming from the fact that Instagram's feed isn't chronological, because it's seriously killing me.
Instagram is letting users ignore their friends without making it seem mean, and that's right up my alley. I'm beyond thrilled about their latest and greatest mute feature, and seriously cannot wait until I have it on my own phone. BRB, muting everyone except for puppy and food accounts. That's really all of the content I need to see, TBH.