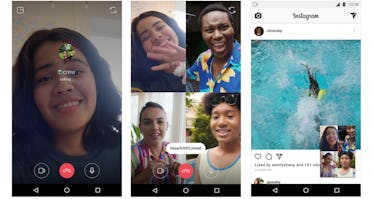 You Can Finally Video Chat Through Instagram & It's A New Way To Slide Into DMs
Instagram
Instagram is rolling out new features left and right this year (or so it seems). The video and photo sharing app will continue the trend with the launch of Video Chat for Instagram Direct available on Tuesday, June 26. Forget typing, because now you will be able to video chat with your friends and followers precisely in Instagram Direct. It all sounds easy enough, right? Even if you're an Instagram know-it-all, there are a few things to know before you make your first call. Here's how to use Video Chat on Instagram Direct.
Instagram is on the move — and nobody seems to be able to catch them. The social media app just launched IGTV on Wednesday, June 20, and now, less than a week later, it is back with even more new features and functions for their 1 billion monthly users. If you have ever wanted to start a video chat with someone on Instagram, your wish has been granted. Now, Instagram users will be able to start a video chat in Instagram Direct with just one person or a group of people. The sky is the limit.
No phone number is needed to initiate a call. All you need is your Instagram account. To start a video chat, open the Instagram app and navigate to arrow in the top righthand corner. Click the arrow to open up your Instagram Direct messaging thread. To start a new message, tap the plus sign icon in the upper righthand corner, and select the user you'd like to call. Once you've done this, click "next," and the message will open. In the lower right corner, you will see a new camera icon. Ready to start the call? Click the camera icon to ring up your best friend. Or, if you have an active Direct thread with someone on Instagram, you can video chat with them.
While you're video chatting, you can still use the Instagram app without closing out of your call. You can resume your usual Instagram habits like browsing your feed, posting to a story, sending messages, and more. This is multitasking at its finest.
Now that you know how to video chat with just one person, here's how you can start a group video chat with up to four people using Instagram Direct. To start a group video chat, you can follow the same set of instructions for calling just one person. You can add up to three people to your video chat in Instagram Direct. Are you looking for an active video chat in a group thread? You'll notice the camera icon will turn blue. All you have to do is tap the blue camera icon to join. Easy peasy. There's no time limit, so you can gab away with your followers for hours on end. Whenever you are ready to end the video chat, just click the red phone icon at the bottom of the screen.
There are a few other things to know. If you've blocked a user on Instagram, you will not be able to start a video chat with this person. In order to do so, you will need to unblock them. We all have a few obligatory people we have to follow and vice versa on Instagram, but there's a way to prevent that person from video chatting with you if you don't want them to. It's as simple as muting their Instagram account. This way, you won't receive any notifications from them.
Don't see the new video chat feature just yet? Video chat in Instagram Direct is available starting on Tuesday, June 26, but sometimes these functions can take longer than anticipated. Typically, new Instagram features can take several weeks to become integrated to all user accounts. My advice for you is to keep your app up-to-date at all times so you don't miss out on all of the fun.