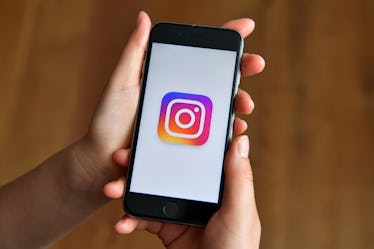 Here's Who Can Post Videos On IGTV, & OMG It Looks So Fun
Carl Court/Getty Images News/Getty Images
Instagram recently dropped some big news when it announced the arrival of IGTV on Wednesday, June 20. The super cool addition to the highly-used Instagram app will have you watching so many more videos on your phone. You might also wonder who all can get in on the video-creation action. So, who can post videos on IGTV?
The good news is that IGTV is an equal-opportunity feature. Before I get to all the fun details of who can post on IGTV, you might want to know exactly what IGTV is. The new feature was announced on June 20, it can be used as an in-app feature on Instagram and as a standalone app called IGTV. The coolest part about IGTV is that it allows you to make long-form videos that are up to an hour long (!!!).
If you are totally addicted to watching Instagram Stories (guilty), then I'm sure you are pumped for the extended screen time. While IGTV sounds super cool and exclusive, the even better news is that anyone with an Instagram account can create IGTV videos. Yep, all you have to do is make sure that you have an Instagram account, and then you can create your very own channel on IGTV. Similar to real television, IGTV also has channels — but the "channels" are actually the different creator accounts.
With all this "channels and creators" talk, IGTV sure knows how to make an Instagrammer feel special.
Now that you know you can totally be a part of the IGTV world, you might want to know how to get it on your phone. Don't worry, because it is so simple to get (and use). To find the IGTV feature in the Instagram app, make sure that your Instagram app is updated to the latest version. Once you've updated, you should see the IGTV television icon in the upper righthand corner just to the left of your Direct Messages icon. Don't panic if you don't see it right away. According to an Instagram blog post announcing the feature, IGTV began rolling out globally on iOS and Android on Wednesday, June 20, and it will continue to roll out "over the next few weeks."
To get the IGTV app, all you need to do is search "IGTV" in the App Store or Google Play. Once you have the app or IGTV feature (or both), all you need to do is create a channel to get started.
To create your channel, either go to the IGTV app or IGTV feature in Instagram. Then, you can click on the "Settings" icon, and click "Create Channel." Really, it's that simple to get started.
Once you have it, IGTV will completely change your Instagram video viewing. For starters, the videos in IGTV all play vertically, to naturally fit the way in which you hold your phone. Also, the videos on IGTV begin playing as soon as you open up the app or in-app Instagram feature. If you're indecisive about what you want to watch, you can use the following four IGTV categories to help you choose: Following, For You, Popular, and Continue Watching.
Once you have created your IGTV channel, you can post all the long-form videos your Instagramming-heart desires. Oh, and I should point out that you can't film videos in the IGTV app or IG in-app feature, so make sure your vertical vids are ready to be uploaded from your camera roll.
It might sound a little complicated at first (especially if you're used to using the Story feature), but you'll get the hang of it in no time.
If you're short on IGTV ideas, you can still get your creative juices flowing in Instagram Stories. Instagram recently announced that you can share Stories that you are mentioned in by adding it to your own Story. An unexpected mention in a Story might just be the creative spark you need to get your IGTV channel poppin'. Hey, you never know: Your IGTV channel might just become the one to watch.