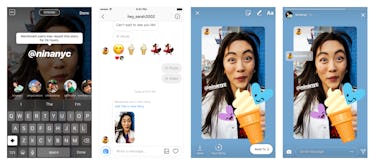 This New Instagram Feature Lets You Share Stories That You're Mentioned In
I don't know about you, but I constantly feel compelled to post Instagram Stories — and the worst part is that I feel guilty when I forget to do so. If you can relate, you should probably know that Instagram now allows you to repost your friends' Stories that you're tagged in onto your own Story, which they call "@mention sharing." If you haven't already given it a go, here's how to use Instagram's @mention sharing feature to make all of your Stories even more personal than ever before (and to give you a break from continuously updating your followers).
Maybe you were caught up in the moment during a hike, or you missed out on capturing your best friend blowing out her birthday candles (yikes). Luckily, users no longer have to capture every moment on their own phones to get a Story out of something they experienced. On Thursday, June 7, Instagram came out with the @mention sharing feature, according to Instagram's blog. Whenever a friend mentions you in their Story, you'll be able to share the photo or video directly to your own Story with the original poster's username still visible and tappable. It's really handy if you don't want to have constant phone access, but still want to show your followers what you've been up to.
You'll start to notice that whenever a friend mentions you in their Story, you receive a notification in your DM's with that person. According to Instagram's blog post, to share the Story you've been mentioned in, navigate to the Direct Message, and there will be an option to add the video or photograph to your own Story. Just tap it, and you'll see the Story as a sticker (which basically just means that you can customize it however you'd like). You can scale, rotate, reposition, and you can even add bling (like text and more stickers). Again, your followers will be able to see and explore the original poster's username, but keep in mind that only public accounts can have their Stories shared. So make sure all of your friends have finally ditched that #PrivateProfileLife, at long last.
OK, I don't know about you, but I feel like the weight of the world has been lifted from my shoulders. Like, this could actually be a life-changing innovation. Sometimes, I'm not the best at remembering to document exciting events, but now I can just repost any of my friends' Stories that I'm tagged in. Praise Instagram, y'all, this is a photo-sharing miracle.
The new @mention sharing feature is pretty great, but on an even better note, the photo sharing app is also turning up for Pride Month, which is a definite win in my book. A few of their latest features allow users to customize their Stories with rainbows, and it's the greatest thing ever. For example, there's a rainbow color in the signature gradients, as well as rainbow pride hashtags. If you really wanna show the love, you can even create a "shower of rainbow hearts" during Instagram Live. If that isn't the most adorable thing you ever did see, I really don't think we can be.
Instagram, you're doing great; don't let anyone tell you otherwise. Having to constantly update my Story during exciting events can be really difficult, so you know I'll be taking advantage of the fact that it's now possible to share Stories you've simply been mentioned in. TBH, I might just outsource for any and all Instagram Stories now, so don't forget to tag me (and to make your profile public for all to see).