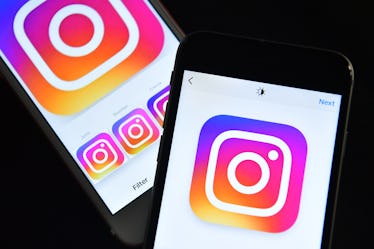 Here's How To Get IGTV, So Make Sure You're Camera Ready
Carl Court/Getty Images News/Getty Images
Let's be real, Instagram is truly the hottest app at the moment. From flattering filters to Oscar-worthy Instagram stories, it's only natural that this social media site wants to reach outside the box with it's latest feature. So, for those wanting to keep up with the latest trends, here's how to get IGTV. You're welcome.
On June 20, Instagram announced its latest venture, IGTV. The feature is a new app that allows users to watch long-form, vertical videos, and it's available right now. According to Instagram, IGTV will be available within the Instagram app, and a stand-alone app will also be released. So how can you check out this exciting new feature? No need to stress, because it's actually pretty simple. According to TechCrunch, IGTV is available on iOS and Android, and the first step is simply updating your Instagram app. Once you've updated, a new circular button will appear next to the direct messaging control. Click on that button and a screen will pop up which will immediately play a video while having other explorable channels to choose from below.
For those wondering how this new feature differs from Instagram stories, here's a rundown. As opposed to Instagram stories, which are only a minute, IGTV will offer videos that can be up to an hour long. Plus, the videos can expand to be vertical, full-screen entertainment.
If you're like me, new features and updates can be a stressful experience. However, Instagram is making IGTV as easy as possible to work. According to the app's website, IGTV will start playing the minute users open the app. Not interested in the first video? Just swipe up to "discover" more clips and switch between channels such as "For You," "Following," "Popular," and "Continue Watching." Then, just in case you want to share the fun with a friend, viewers will be able to comment and send videos to friends through direct messaging.
Following the exciting announcement, Instagram took to their business blog to explain why they decided to introduce such a unique new venture.
The blog said,
We're evolving with the times; these days, people are watching less TV and more digital video. By 2021, mobile video will account for 78% of total mobile data traffic. And we've learned that younger audiences are spending more time with amateur content creators and less time with professionals.
Honestly, Instagram content may not technically be professional, but I've seen some posts that deserve to be hung in a museum.
I don't know how y'all feel, but this could mean trouble for other video channels such as YouTube and Snapchat. I'll be the first to admit that Instagram is the first app I choose to scroll mindlessly through in my downtime. First there were photos, then there were stories, and after that there was live streaming. Now hour-long videos will be involved? My data is in serious trouble.
IGTV is definitely a game-changer for Instagram, but it looks like video sharing app Snapchat might also be stepping up their game with this new feature. On June 14, Snapchat announced that its testing its new "Bounce" feature, which sounds pretty familiar to Instagram's popular boomerang video. Unfortunately for many of us, not everyone can try out "Bounce." According to Snapchat, the company is only letting a select number of users test out the exciting new feature, but from what I've heard it sounds pretty easy to use.
Of course, in May 2017 the company released an update that let users watch Snapchat videos on a continuous loop. I may not be the biggest fan of the app's back-to-back updates, but I do enjoy the loop feature.
Perhaps 2018 will be the year where social media sites go head to head to determine who's really the app in charge. Snapchat might have been all the rage when it was released in 2011, but Instagram is definitely proving its a worthy opponent by keeping us on the edge of our seats with all of these updates. No matter who ends up on top, at least we can be rest assured that both apps will guarantee us a top notch selfie.
If you need me, I'll be binge-watching IGTV.