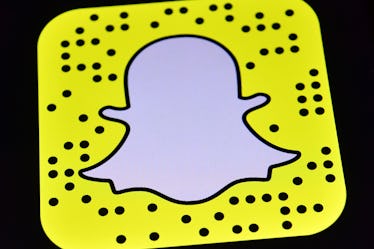 Snapchat Is Testing A Feature That's Like Boomerang & I'm So Ready
Carl Court/Getty Images News/Getty Images
Honestly, I have to admit my Snapchat usage has fallen way off lately. I'm not exactly sure why that is, but I have feeling I'm going to be back on the app way more often in the near future. Why, you ask? Well, Snapchat is testing a super-cool new feature that will make your Snap videos so much more fun. Snapchat's "Bounce" feature is being tested, and it will remind you a lot of your Boomerang videos.
There's no doubt that Boomerang videos are a great way to take any mundane activity and turn it into a way more interesting video. According to Mashable, Snapchat's new test feature loops videos similar to what you get when you use Boomerang. You might wonder why you can't see the Bounce option in your own Snapchat app. Don't feel left out, because odds are most people currently don't have the option to try the Bounce test feature.
Per Snapchat, the company is only testing the Bounce feature with a "very small number of users." So, those select lucky Snapchatters currently have a chance to try the Bounce feature in a beta version of the app that is not yet publicly available.
For the lucky ones with the Bounce feature, it's pretty simple to use it. You can find the Bounce feature in the video playback toolbar, and then you select which part of the video you want to "bounce." Once it's done, the selected clip plays back and forth in a loop, giving it a Boomerang feel.
You're probably familiar with creating Boomerang videos in your Instagram app, so if and (hopefully) when the Bounce feature rolls out to a wider release from Snapchat, you'll be ready to create all the fun Bounce Snaps like a pro.
All is not lost if you aren't one of the lucky Snapchatters currently testing the Bounce feature. Snapchat released an update in May 2017 that can give your Snap videos a similar effect. Looping Videos on Snapchat are pretty much exactly what they sound like. In order to use the Loop feature that is available as of the May 2017 rollout, all you need to do is take a video in Snapchat, and then tap the Loop icon on the right side of the screen. You can choose how many times you want the video to loop, and then you can share your Loop Video however you want.
The Loop feature isn't the exact same thing at the Bounce feature that is being tested, but it will give your Snap videos a similar effect.
There is no word yet on any plans of a roll out of the Bounce feature to all Snapchatters, but Instagram's Boomerang feature has proven to be very popular — so fingers crossed that Snapchat takes a page from the 'Gram's book.
Of course, if you really want a video with the Boomerang effect, you can always use the Boomerang feature from Instagram. Boomerang was first introduced in October 2015, and Instagram referred to it in a release as "a new video app that lets you turn everyday moments into something fun and unexpected."
Since then, Boomerang has become a staple in people's Instagram feed and Stories. I don't know about you, but it's almost impossible to have a night out without documenting at least one "cheers"-ing Boomerang. Clinking champagne glasses is so much more fun when you see it played forward and backward, over and over again.
Again, if you're on Snapchat without the test Bounce feature and want a similar effect, you can always use the Loop feature. Speaking as a Bounce-less Snapchatter, I am very much here for a wider release of the test feature. Until then, here's to hoping that Snapchat brings Bounce to all Snapchatters soon!