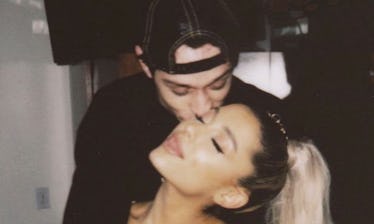 Ariana Grande & Pete Davidson Went On The Cutest Shopping Date & I'm Swooning
Instagram/Ariana Grande
That saying that the couple that laughs together, stays together? Yep, it's definitely a real thing. Since their surprise engagement broke the internet just a few weeks ago, Ariana Grande and Pete Davidson are continuing to find the humor with impromptu dance classes and now a goofy shopping spree. Prepare for a dose of #RelationshipGoals, because Ariana Grande and Pete Davidson's Instagram Stories about shopping together are cute AF.
On the evening of Friday, June 29, the lovebirds took to their Instagram Stories to document their adorable shopping expedition around New York City, and they look like they're living their best lives. Honestly, I'd be so down to third wheel the hilarious duo, and I'm kind of upset that my invite to this giggle fest got lost in the mail.
The Saturday Night Live star's Story shows the pair gearing up for their shopping date with one major essential: silly hats. In the selfie, Davidson sticks his tongue out while donning a lavender bucket hat. Grande opted to wear a white plastic visor paired with a silly puppy Lens that's just the icing on the cake. He captioned the shot, "Hats? check." Meanwhile, the "Side to Side" songstress took to her own Instagram to post a video of the pair goofing around in the car, this time with Davidson wearing a black hat and black sunglasses. They look like they raided a vintage store, and I love that they don't take themselves too seriously.
The shenanigans didn't end there. Later, the couple played hide-and-seek with the paparazzi at a Sephora store, as seen on Grande's Instagram Story. In the clip, the couple can be seen crouching in one of the makeup aisles while an unknown person films the video. They then stood up at the same time and started making peace signs towards the store's window, where a huge crowd of photographers was attempting to snap photos. Looks like the incognito disguises didn't work so well after all.
While Grande and Davidson might have been in camouflage mode on Friday, the paparazzi did manage to manage to capture a PDA moment of the two just one day earlier. On Thursday, the "No Tears Left To Cry" songstress took to her Instagram to share a black-and-white paparazzi photo of her kissing her fiancé, and it is goals.
And while the singer might have been shopping on Friday, I have a feeling that her newest item of clothing might be Davidson's favorite. Let's be honest, it's no secret that the lovebirds are full-on obsessed with each other and they don't care who knows it. That being said, Grande's new sweater is so extra and it's taking things to the next level. In an Instagram Story, Grande can be seen dancing in her new apartment with the puppy Instagram filter and a gray hoodie with, wait for it, Pete Davidson's face adorning the front. Now that's how to wear your heart on your sleeve.
Another day, another Instagram post that demonstrates that young love is alive and well — and these two are so crazy about each other. I'll admit that I was a skeptic at first. The pair's quicker than quick romance has dominated headlines with a surprise whirlwind engagement after just a few months of dating. Now with a joint apartment, too many cute social media moments to count, and numerous tattoos paying homage to their love, I can't help but root for them. This goofy shopping trip proves that they're just doing them, and ignoring all the naysayers. Plus, how happy do they seem? Looks like engaged life definitely agrees with these two.