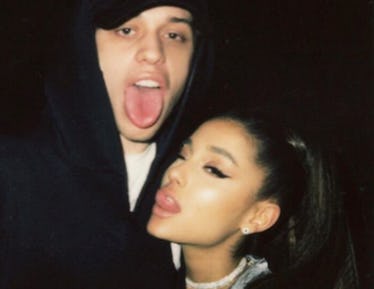 Ariana Grande & Pete Davidson Doing Karaoke For Her Birthday Is... Weirdly Perfect?
Ariana Grande on Instagram
Ariana Grande celebrated her 25th birthday on June 26, and to commemorate the special day, she and her fiancée and a bunch of their friends did karaoke in New York City. Grande and Davidson, who just got an apartment together in NYC, reached peak millennial status when they sang Evanescence's "Bring Me To Life." Seriously, guys, the videos of Ariana Grande and Pete Davidson doing karaoke on her birthday are amazing, and I honestly feel really bad for whomever took the stage after Grande.
Grande posted the videos of her, Davidson, and their friends to her Instagram story. They started off with Grande and Davidson singing "Bring Me To Life," and naturally Grande's vocals sounded perfect. The woman has the vocal cords made of gold. Davidson took on the guy's part, which actually turned out to be a pretty perfect fit. It's that emo millennial throwback ya love to see, and it reminds me of what would go down in my friends' cars whenever this song came on the radio. One does not simply hear "Bring Me To Life" and not sing (and scream) along.
Excellent choice on this one, Ari and Pete. Excellent choice.
After "Bring Me To Life," Grande made sure not a damn person in the room would pick up the mic after her by singing Queen Bey's "Love On Top."
Few people can cover all of the key changes in "Love On Top" without embarrassing themselves, and Ariana Grande is definitely one of them.
Fans of the couple are in love with the videos of their karaoke night.
The first photo was of Grande being carried on Davidson's back at what appears to be the 2018 BBMAs. Davidson's caption read, "happy birthday to the most precious angel on earth! you're my favorite person that ever existed :) i love you sm." The second photo showed Davidson and Grande mid-hug talking to each other. Davidson's caption read, "one more for the queen. words can't express what a real f*cking treasure this one is."
If you think these two are moving hella fast and don't really understand how we got to this point, join the club. When you know, you know, I guess? I don't know. This is all happening too fast for me to process. And Pete Davidson's tattoo artist agrees, seeing as he warned him not to get a tattoo for Grande. But did he listen? LOL, of course not.
Tattoo artist Jon Mesa is responsible for Davidson's two tattoos commemorating his relationship with Grande. (He has the Dangerous Woman bunny ears mask behind his left ear and Grande's initials on his hand.) Mesa told Page Six that he advised Davidson to wait until he and Grande officially tied the knot to mark the occasion on his body permanently, but homeboy didn't listen. Mesa said he had to do a lot of cover-up work to make Davidson's tattoo of his ex-girlfriend, Cazzie David's, face disappear. He said,
After we were done, I told Pete, 'Hey, dude, let's just stop with the girlfriend tats until after [Grande's] your wife. Because relationships come and go, and Pete is a really young man. [But] I think that went in one ear and out the other.
Yeah, it definitely did. But Mesa said that was OK because they're just so ~in love~. He added,
They are just riding that magical wave of bliss together ... It's obvious that Pete is super in love with Ariana. They are super stoked ... When they walk into a room together you can tell Pete and Ariana are in love. How could you not be happy for them?
I'm not saying I'm not happy for these two, I'm just HELLA skeptical about the pace they're going at. Everything will be fine, though. Right? RIGHT?!