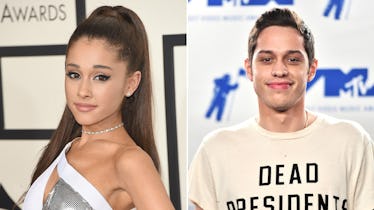 Pete Davidson's Tattoo Guy Warned Him Not To Get Ariana Grande Tats & He Obvs Didn't Listen
Jason Merritt/Alberto E. Rodriguez/Getty Images Entertainment/Getty Images
If your head is spinning with all of the details from the world's newest whirlwind romance that is Ariana Grande and Pete Davidson's, just know that you're not alone. There's the engagement, the fact that they've moved in together so quickly, and, oh yeah, the fact that Davidson now has a few Grande-inspired tattoos (right after covering up his tattoo of his ex-girlfriend, Cazzie David, too). Basically, things have been a bit hectic for the two newly-engaged celebs. But apparently there have been at least a few people in their lives telling them to slow things down a little, and the tattoo artist who worked with Davidson is one of them. Yep, Pete Davidson's tattoo artist warned him about Ariana Grande tattoos and, clearly, Davidson didn't listen to a single word that dude said.
In case you missed it (LOL, only if you've been living under a rock), Ariana Grande and Pete Davidson are engaged after just weeks of dating. According to a report from Us Weekly, Grande and Davidson "were telling people that they're engaged" while celebrating Robert Pattinson's birthday party in Los Angeles on Saturday, June 9. Some people thought that this rumored quickie engagement simply couldn't be true.
Oh, but it was.
Davidson went on The Tonight Show with Jimmy Fallon on June 20 and confirmed that the engagement was *not* a hoax, and that it was, in fact, very, very real. Pete Davidson commented about Ariana Grande and their relationship with Fallon and when Fallon said, "You know, you didn't have to get engaged to Ariana Grande to come on our show," Davidson just smiled and responded, "But I did, though." YUP, from then on, we knew it was the real deal.
But we shouldn't be all that surprised, considering that, just a few weeks before, we saw Davidson get not one, but TWO new tattoos in honor of his new boo, Ariana Grande. Tattoo artist London Reese shared the photos of Davidson's new ink: one, a tattoo of Grande's Dangerous Woman bunny ears behind his ear; the other, a tattoo of Grande's initials, "AG," on his finger. Reese posted a photo of the bunny ear tattoo to Instagram, captioning it, "We had a good night":
A good night indeed, my friend. A good night, indeed.
Davidson's other tattoo of Grande's initials, if you're curious, looks a lil' something like this:
And, if you'll remember, Davidson had a portrait of his ex-girlfriend's face tattooed smack in the middle of his arm, meaning he basically was paying homage to an ex-lover and a new lover at the same time. Not really the best look. So when Entertainment Tonight noticed that, in a video Davidson uploaded to Instagram, his forearm looks like it was covered with some new ink, we quickly realized he must have gone ahead and got tattooed over David's portrait:
And now, Davidson's friend and tattoo artist Jon Mesa told Page Six about what happened when he was asked to cover up Davidson's forearm tattoo of David.
He said,
After we were done, I told Pete, 'Hey, dude, let's just stop with the girlfriend tats until after [Grande's] your wife. Because relationships come and go, and Pete is a really young man. [But] I think that went in one ear and out the other.
In one ear and out the other? I wonder what made him think that.
Maybe it was the fact that the next time Mesa saw the couple, it was when Davidson and Grande came in for more tattoos. According to Page Six, "Pete got the word "REBORN" on his hand while Grande got her favorite phrase 'H2GKMO,' on her hand, which stands for 'honest to god, knock me out'."
To be fair, Davidson's new Grande-inspired tattoos are exponentially subtler than his big tat of David's face. So, he seems to have learned a little of that lesson.
Mesa said that he "warned" Davidson about getting too serious too fast with Grande, but realized the couple are just too head-over-heels in love to really care. He said,
They are just riding that magical wave of bliss together ... It's obvious that Pete is super in love with Ariana. They are super stoked ... When they walk into a room together you can tell Pete and Ariana are in love. How could you not be happy for them?
Let's take a page out of Mesa's book and just let Davidson and Grande do their thang. Keep those sparks flying, lovebirds.