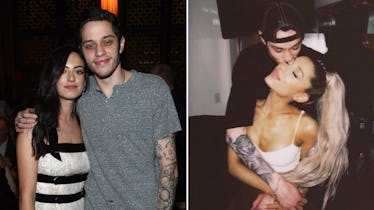 Looks Like Pete Davidson Covered Up His Massive Tat Of Cazzie David's Face, Because Duh
Jamie McCarthy/Getty Images Entertainment/Getty Images/Ariana Grande on Instagram
There is some sage advice about not getting matching tattoos with your significant other, or, even worse, getting a tattoo of your significant other's face. Get matching necklaces. Wear cheesy shirts that declare your love for your SO. But please, please, do not put anything permanent on your body that signifies another person, because if things go south, you're going to end up having to get real creative and cover it up with something else, like a dragon or a koi fish. But look, I get when you're in a long-term, committed relationship, getting a tattoo might feel as though you're signifying your love for that person, which is sweet, but if, down the road, you're no longer with that particular person, things might get a bit dicey. And guess what? It looks like Pete Davidson covered up his Cazzie David tattoo for some pretty obvious reasons.
Ariana Grande and Pete Davidson are reportedly engaged after just weeks of dating, and I think it's safe to say that it's probably true. Elite Daily reached out to both Grande and Davidson's teams for comment, but have not heard back at the time of publication.
But how do we know that it's not all just hype? Well, according to a new report from Us Weekly, Grande and Davidson "were telling people that they're engaged" at Robert Pattinson's birthday party in Los Angeles on Saturday, June 9, AND Grande has been walking around sporting what looks to be an engagement ring on her ring finger, so we're merely putting two and two together at this point.
Now, in case you weren't aware, Davidson broke off his relationship with Cazzie David in May of 2018 after about two years of dating. When Davidson went on Complex's Open Late with Peter Rosenberg in mid-May, he revealed that he and David were "not together anymore," but added that David is a "very talented girl" and said, "she'll be great and she'll be fine." Keep in mind, this was about two weeks after David posted this photo declaring him her best friend forever.
Though I can't exactly find a photo of Davidson's tattoo of David, just know that it's on his forearm and looks pretty similar to the picture below:
I mean, she's drop-dead gorgeous, but if you're reportedly engaged to another woman, then it's probably a little bit awkward to have a portrait of your ex-girlfriend on your arm.
But fret not! The Saturday Night Live comedian appears to have had the situation taken care of. Entertainment Tonight noticed that, in a video Davidson uploaded to Instagram, his forearm looks like it's covered with some new ink. The video depicts a shirtless Davidson dancing around, but try to ignore his moves and zoom your eyes in on his right forearm, where you'll see something that looks less like a portrait and more of a deeply shaded blob:
Is it a tidal wave? A tiger? A quote about living life to the fullest? The world may never know, but what we do know is that Pete Davidson definitely didn't learn his lesson about tattoos, because he now apparently has not one but TWO pieces of his body permanently inked with Ariana Grande references.
On June 2, tattoo artist London Reese from the Black Lantern shared a photo of Davidson's new ink, which is Grande's Dangerous Woman bunny ears, and captioned the picture, "We had a good night":
And if that's not enough for you to handle, perhaps you won't want to scroll down to see his other tattoo — Grande's initials tattooed on his finger:
Technically, "AG" can mean a lot of things: Awesome Guacamole! Always Growing! Absolutely Great! So truly, let's not rule out any of those options.
JK, of course it's for Ariana Grande, and if you don't like it, too bad.
I'm not going to lie, I'm pretty excited to see what happens next with these two lovebirds.