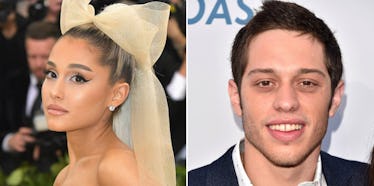 Pete Davidson Posted The Sweetest Instagram For Ariana Grande On Her Birthday
Neilson Barnard/Alberto E. Rodriguez/Getty Images
Congrats to Ariana Grande and Pete Davidson making it to the one-month mark in their relationship! The couple has chosen to take things slow with their new romance by... LOL. Just kidding. They're doing the opposite of taking things slow. The couple got engaged after just a couple of weeks of dating. Tuesday, June 26, marks Grande's 25th birthday, and Pete Davidson's birthday post for Ariana Grande is a sweet one. The Saturday Night Live comedian took to Instagram and posted a photo of him and his fiancé looking happy and blissful AF. The caption read, "happy birthday to the most precious angel on earth! you're my favorite person that ever existed :) i love you sm." I know these two rushed into this engagement faster than I rush into a McDonald's when I'm hungover, but I have to say, this post is adorable.
Grande and Davidson, as couples in their honeymoon phase do, have been hella flirty with each other on Instagram for weeks now. You can find them commenting on each other's Instagrams just about every time they post, and most of the things they post to their account (both their grid and their stories) are about each other nowadays. It's become so frequent that even Seth Rogen stepped in to say, "Lol, chill." Before we dive into that, let's check out Davidson's birthday post for his fiancée.
The photo showed Davidson carrying Grande on his back, and it's super sweet.
Grande's hair color and the outfit she's wearing (plus the mic pack on her back) indicates that this photo was taken at the 2018 Billboard Music Awards, where Grande performed "No Tears Left To Cry." The BBMAs were on May 20 and the news of Grande and Davidson's relationship went public on May 21, so they definitely were dating for a little before fans ever learned of their relationship.
He posted a second photo of him and Grande in honor of her 25th birthday.
The caption read, "one more for the queen. words can't express what a real f*cking treasure this one is."
Grande commented on Davidson's birthday post for her saying, "i love you so much." These two are clearly smitten. So smitten, other celebs are starting to be like, "Guys, what is happening?" Seth Rogen commented on Pete Davidson's Instagram of Ariana Grande and it's so hilariously cringeworthy.
Davidson posted this Instagram of Grande laying in a field by a beach somewhere. His caption read, "what the actual f*ck" with the heart eyes emoji. Grande commented on the post and said, "I love you," then Davidson responded, "i love u more tho." That's when Seth Rogen piped in (like a hero) and said what we were all thinking by commenting, "Guys seriously." Yes, guys, seriously. But Davidson isn't letting anyone kill his honeymoon phase vibe! He replied to Rogen's comment saying, "@sethrogen when ur getting married to the hottest girl in the world you tell me how you'd act." Rogen's already married, so that's a little awkward.
As for Grande, leading up to her birthday, she posted the cutest throwback video of herself on her third birthday back in 1996.
Raise your hand if you can't handle the cuteness that is little baby Ari.
Speaking of babies... Grande dished on Twitter when she thinks she'll be ready to have kids with Davidson. Based on the current pace of their relationship, I'd say we can probably expect a pregnancy announcement in the next 30 seconds.
One fan jokingly tweeted, "aRiAnNA Is PreGnNanT," and Grande responded saying, "mood for the next few years til i'm actually ready #fertilequeen." Catch me using #fertilequeen in all of my Instagram captions from now until menopause.
This Ariana Grande and Pete Davidson roller coaster likely won't end anytime soon, so strap in, people. Also, HBD, Ari.