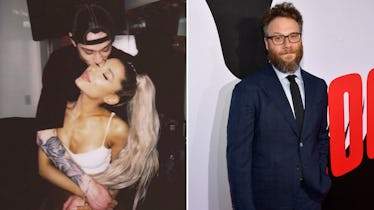 Seth Rogen Called Out Pete Davidson For Gushing Over Ariana Grande On Instagram
ARIANA GRANDE ON INSTAGRAM / Matt Winkelmeyer/Getty Images Entertainment/Getty Images
There is not a soul in this world who is not immune to witnessing the very fast-paced love of Ariana Grande and Pete Davidson. In case you blinked, you probably missed one of the many adult-y things the pop singer and Saturday Night Live star have done, mainly because they've crammed a decade's worth of a relationship seemingly into one single month. But hey, they're young and in love, so let's all just roll with it, OK? And it's not difficult to see just how into each other these two are, considering their social media pages are both littered with heart-eyes and sweet comments about how over-the-moon they are about the other. But some people think that maybe, just maybe, these two should relax with the internet PDA, and Seth Rogen's comment on Pete Davidson's Instagram is a perfect example of what I'm talking about. Rogen's commentary is just slightly awkward, but that only makes me love it even more.
Let's dive in, shall we?
Davidson took to Instagram to basically gloat to the world that he's engaged to a goddess of a woman. (Did you know that Ariana Grande and Pete Davidson are engaged? Of course you did.) On Thursday, June 22, he posted a photo of Grande in a very ~suggestive~ ensemble, wearing a gorgeous white sheath-like skirt over what seems to be... underwear? A bikini bottom? I really couldn't tell you, but she's crushing it either way.
If there was any time that someone should say, "YAS, QUEEN," now would certainly be it.
Davidson clearly agreed, captioning his photo, "what the actual f*ck 😍" and Grande responded flirtatiously back, saying, "i love you," because of course she would.
But the banter didn't stop there! This love train is rolling full steam ahead, people, and it has no plans of resting until it reaches it's destination of Romanceville, population: 2.
Davidson responded back to Grande, writing, "@arianagrande i love u more tho."
I mean, OK. It seems like he could have done a little better than that, but I'll take it. For the future, Pete, just try and zest it up just a little. It's already sort of cringe-worthy that you've been re-using comments from your ex-girlfriend's Instagram account, so people are really watching your every move. We don't want your month-long romance to start getting stale.
So if you're like, OK, this is a little too much like an eighth grade, "No, you hang up the phone first" exchange for you, I promise that you're not alone. Seth Rogen agrees with you. And Seth Rogen has come to speak his damn mind.
He commented on Davidson's Insta pic of Grande with a simple, "Guys seriously."
THAT'S ALL HE NEEDED TO SAY BECAUSE EVERYONE WAS THINKING IT. DON'T @ ME.
But Pete Davidson was not having it, and had a few choice words to fire back at Rogen. He responded to Rogen's comment, saying:
@sethrogen when ur getting married to the hottest girl in the world you tell me how you'd act.
Now hold up just a minute, partner. There is no denying that Ariana Grande is a talented and gorgeous human being. That is fact. But Seth Rogen is married to actress Lauren Miller, and she's a freakin' smoke show:
So I'm going to have to politely ask for Pete Davidson to cool it a bit with the defensive comments.
But it looks like there's nothing in the world that is more powerful than Ariana Grande and Pete Davidson's love, so they'll be damned if a little Instagram roasting brings them down. At this point, whatevs, so long as those two kids are happy, then I'm happy.
If you need me, I'll be the one microwaving up some popcorn and waiting for the next big step in Ariana and Pete's relationship is revealed.