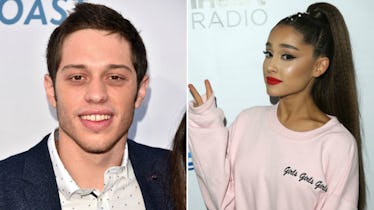 Ariana Grande & Pete Davidson Reportedly Moved In Together & Their Apartment Is Lavish AF
Alberto E. Rodriguez/Getty Images Entertainment/Getty Images | Jesse Grant/Getty Images Entertainment/Getty Images
Ariana Grande and Pete Davidson have finally moved in together! And their new digs are ridiculously lavish and, strangely enough, perfectly fitting for the couple. In a brand new report from Wednesday, June 20, People magazine revealed all the most important things to know about the couple's new, not-so-humble abode. So, where is Ariana Grande and Pete Davidson's apartment? New York City, where else? And honestly, it sounds like it's to die for.
Now, you may be thinking, "It's just an apartment. How unbelievable could it truly be?" Well, I have news for you: It's way more extravagant and lavish than you could probably ever dream of.
According to People, Grande and Davidson chose to make make their home in a luxury apartment building in NYC, which you probably know is one of the most expensive cities to live in. So, naturally, it's home to countless celebs like these two lovebirds.
People reports that the luxury apartment building boasts an on-site fitness facility, so Grande and Davidson don't even have to leave home to squeeze in a workout. There's also a juice bar and 75-foot indoor pool that's lit from above by a huge skylight.
If that's not enough to fill you with complete and utter envy, then maybe the building's private IMAX theater will.
Yep, Grande and Davidson's apartment building is one of the only residential buildings in the world to have a private IMAX theater. That means the couple can enjoy films at their leisure without even leaving home.
But, wait. There's more, you guys.
The building, the location of which People has not disclosed for privacy reasons, also has a private spa suite. Let that sink in for a minute: a private spa in addition to its own IMAX theater, fitness center, juice bar, and 75-foot pool. To die for, right?
Anyway, the spa includes all the best features like a plunge pool, a steam room, a sauna, and a hot tub. And on top of all that, residents can also book the building's entertainment/recreation area for private events and parties. Grande and Davidson don't even have to leave to let loose. They can just invite friends over and do their thing at home. Wild.
Oh, and did I mention that the building also connects to one of New York City's most beloved parks? Now, People doesn't say which park that is, but it could very well be Central Park. I mean, who moves to New York City without coveting a view of Central Park, right?
Even if it's not Central Park, there are so many other locales to choose from, so wherever Grande and Davidson are making their home, it's sure to be a beautiful place.
Some of you reading this might be asking yourselves why on earth Grande and Davidson are moving in together just a month after they started dating. Well, if you haven't heard, they recently got engaged and they're reportedly hoping to settle in with each other for a long while.
On June 14, just days after Grande and Davidson confirmed their engagement to friends, an Us Weekly source close to the couple shared some insight into the relationship:
They are looking forward to a very long engagement together.
So, this new apartment is likely the first step in that long engagement. Grande actually teased their new apartment adventures on her Instagram story just days ago. The singer used an funny screenshot from Spongebob Squarepants to let the world know:
And now, it seems, they've gone ahead and done the thing! While it might seem like things are moving way too fast between Grande and Davidson, they do seem genuinely happy together. And hey, if they're happy, everyone should be happy. Let them live and love as they please!