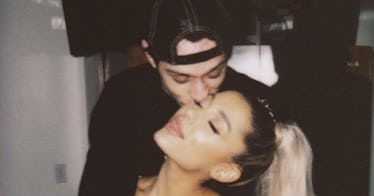 Ariana Grande Dancing In A Pete Davidson Sweatshirt Is So Extra In The Most Romantic Way
Instagram / Ariana Grande
How much do I love Ariana Grande and Pete Davidson's quicker-than-quick romance? Let me count the ways. Look, it's a bit overwhelming to think about at first, but I'm really just feeling the positive energy coming from both Grande and Davidson, so I'm just going for it. They're known to be super lovey-dovey on social media, and, while it may be a bit too much for some (cough cough, Seth Rogen), I'm sort of living for it. And now, seeing Ariana Grande's Pete Davidson sweatshirt in a video online, my heart is bursting at the seams.
A REAL quick recap in case you've missed the last few weeks: A report from Us Weekly noted that Grande and Davidson "were telling people that they're engaged" while celebrating Robert Pattinson's birthday party in Los Angeles on Saturday, June 9. This came as a bit of a surprise, mainly because they were only dating for a few weeks, but hey, whatever floats your boat, amirite?
But a quickie engagement doesn't necessarily mean a rushed wedding, and on June 14, a source told Us Weekly that Grande and Davidson were in no rush to get married, saying, "They are looking forward to a very long engagement together." So, OK, this is cute.
Then, of course, we have the back-and-forth flirting on social media, the two tattoos Davidson got in honor of Grande, the close-up portrait of Davidson that we found out was Grande's lock screen on her phone, and honestly, so much more than I can even begin to write about. The two are in love, and it's pretty obvious.
But in case it WASN'T obvious that these two humans are hopelessly in love, let's add one more adorable piece of evidence to the mix. Grande posted the cutest jam session to her Instagram story with a cute little... dog? Cat? Bunny?... filter, and a sweatshirt that has a blown-up photo of — yep, you guessed it — Davidson on it. A Grandavidson fan account shared the video on Instagram and the caption was equal parts questioning and hilarious:
did she really go and get herself a sweatshirt with pete's face on it? I WANT ONE #arianagrande#petedavidson#petiana#peteiana#grandson
My first thought was, why would you plaster a face on a perfectly good sweatshirt? My second thought was, actually, I've changed my mind, so where can I order myself one?
God bless young love, y'all.
It seems as though Grande is truly happy, so let's all let her have her moment, shall we? She even wrote a song called "Pete" for her upcoming album, Sweetener, which basically shows us that this relationship is the real deal. When one user on Twitter called her "dumb" for writing a song about her new love, Grande's tweet about writing "Pete" for Pete Davidson is proof that she's going to stand up for love, no matter what.
On Sunday, June 17, Grande took to Instagram to share a preview of a song that she was working on:
Fans were loving the little snippet, but had no idea what the title of the song was. A fan on Twitter asked Grande if she could fill them in on the deets, and Grande actually responded: "the one from today isss from an interlude ab pete," Grande told fans. "'pete'!," which, c'mon, that's so damn precious!
But not all fans were living for the title. One wrote, "'pete' girl we know you love him but are you dumb":
Instead of starting up some beef, Grande responded perfectly, just writing, "nah":
ARIANA GRANDE, YOU ARE EVERYTHING.
Then, Grande decided to basically say "sorry, not sorry" to her haters, writing,
the truth is ☕️ i been the f*ck thru it and life's too short to be cryptic n sh*t about something as beautiful as this love I'm in. so ǝʇǝԀ it is," she explained.
That's our girl!
So, listen. Let Ariana have an adorable background phone screen of her boo. Let her move in with her bae, despite that they've only been dating for a short time. Let her wear a damn sweatshirt with Davidson's face plastered on it. You do you, Ariana. We love ya for it.