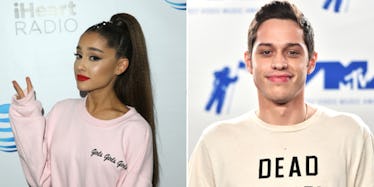 A Matchmaker Explains Exactly Why Ariana Grande & Pete Davidson Are So Compatible
Getty Images/Jesse Grant + Getty Images/Alberto E. Rodriguez
Between all of the public declarations of love from Ariana Grande and Pete Davidson (AKA Instagram comments and photo posts), one can't help but wonder are Ariana Grande and Pete Davidson compatible? The two have been flaunting their relationship nonstop since May, and while timeline of the whirlwind romance is fast and slightly confusing, they seem to truly be happy together.
I wondered what makes the two of them work. I spoke to Kailen Rosenberg, celebrity love architect and elite matchmaker, about how the Saturday Night Live comedian and the "No Tears Left to Cry" singer are compatible. All of this is, of course, pure speculation since Rosenberg does not personally know either of the celebrities. But using her matchmaker skills and knowledge of stars, Rosenberg offered some strong insight.
"When two people are attracted to one another romantically, especially if they believe that they may want to spend their lives together, it is always based upon each of their internal levels of emotional wellness, any childhood traumas that have a need for healing, really most everything that is on a subconscious level between the egos and the souls when it comes to connecting and attachment," Rosenberg says.
For Grande and Davidson to escalate their commitment so fast must be a true testament to how strongly they feel for one another. The romance went public in May, and news of their engagement spread a few weeks later. But, the couple could've been engaged longer than we think – the timeline of their whole relationship is a little hazy.
Rosenberg discusses how Grande and Davidson could have gravitated toward one another due to feeling a safety, comfort, and support toward one another's pasts. It's possible the couple's personalities lend to healing and nourishing one another.
While the public narrative points to Grande and Davidson getting engaged after a few weeks, the two have known each other since at least 2016, when Grande was a guest host on Saturday Night Live. The two have been in public relationships since they initially met, but according to reports remained friends throughout the years.
"Friendship and the true values and components that come with true friendship is not only important, but crucial for every relationship especially one that is to last the rest of your life," she says.
Rosenberg says that their attraction combined with the fact that the two can bond over the specific experience of being a celebrity creates an even deeper connection between the young couple.
"[It can] create an instant understanding and support for the worlds and the pressures they live in in the public eye," Rosenberg says.
Rosenberg warns that the couple shouldn't rush any more in their relationship. Since marriage is a lifelong commitment, the two can take their time. As for when the potential wedding would be? Grande used to talk about wanting a winter wedding, so we may be seeing her and Davidson walking down the aisle as soon as this December.
"If they are really meant for one another, no other will get their attention, and together their hearts and minds will remain without question," Rosenberg says. "Marriage is not what commits two people, but values, integrity, character, and the depth of one's true love and emotional awareness [is]."
Even though there's no announced date in mind for Ari and Pete, we know that when the time comes, it will be an event filled with love – I mean, look at these two. Of course it will be.
Check out the entire Gen Why series and other videos on Facebook and the Bustle app across Apple TV, Roku, and Amazon Fire TV.
Check out the "Best of Elite Daily" stream in the Bustle App for more stories just like this!