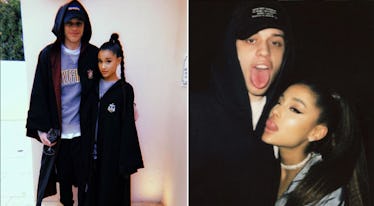 Pete Davidson & Ariana Grande's Body Language On Instagram Says So Much About Their Love
PETE DAVIDSON/ARIANA GRANDE ON INSTAGRAM
It's not often that rumors of a new celebrity couple go from zero to 100 as fast as they have between Pete Davidson and Ariana Grande. The couple first started dating in early May and have seemed inseparable ever since. Last week, an Instagram post featuring a dazzling rock on Grande's ring finger has led pretty much everyone to speculate that these two may be engaged after merely weeks of dating. But thankfully, Pete Davidson and Ariana Grande's body language may shed some light on how serious their connection actually is.
As of now, neither Davidson nor Grande have directly confirmed that they are engaged, but they also haven't said they aren't. The duo has definitely been 'graming and tweeting about their love like there's no tomorrow, and Davidson may even have a few tattoos inspired by Grande.
I spoke with body language expert Blanca Cobb to get her take on the visual connection between these two, and whether or not they could be in it for the long haul.