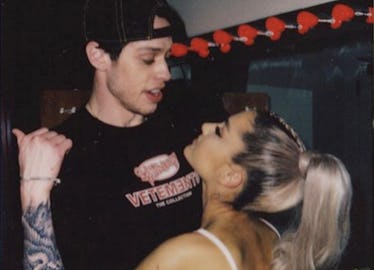 Ariana Grande's Birthday Post About Pete Davidson Reveals Her Extra AF iPhone Lock Screen
Pete Davidson on Instagram
Ariana Grande and Pete Davidson can't stop commenting on each other's Instagrams. Seriously, their posts and comments on each other's Instagrams are becoming a daily occurrence, and I'm just sitting here wondering if it will ever slow down? Maybe? No? OK, cool. June 26 marks the Grande's 25th birthday, and Ariana Grande's birthday post about Pete Davidson proves that their extra AF posts about each other aren't just limited to Instagram. Nope, Pete Davidson is literally Ariana Grande's phone background.
The "No Tears Left To Cry" singer celebrated her birthday a little bit early with friends on June 25. She posted a bunch of videos from her birthday party to her Instagram story that showed a boatload of cupcakes, each one with a picture of Grande on them. Before those cupcake videos, though, she posted a screenshot of her iPhone lock screen at 11:11 on June 25, and it revealed that her background is a selfie of Davidson. She captioned the photo, "i have no wish I have everything i ever wanted hi." Whether that was supposed to be a birthday wish, 11:11 wish, or both, Grande's lock screen is extra AF.
But you're allowed to be extra during the honeymoon phase of your relationship and on your birthday, so I'm not gonna rain on this parade (today).
Ah, new couples. So blissfully unaffected by how extra they're being.
The first showed him carrying Ari on his back at what appears to be the 2018 Billboard Music Awards on May 20. In the photo, Grande's hair is still platinum blonde, she's wearing the same outfit she wore during her performance, and she's mic'ed up as if she was just about to or had just finished performing. (Grande opened up the show with a performance of "No Tears Left To Cry.")
Davidson's caption on the photo said, "happy birthday to the most precious angel on earth! you're my favorite person that ever existed :) i love you sm" with a cloud, lightning, and heart eyes emoji. Grande commented on the post and said, "i love you so much."
Davidson then posted another shot of him and Ari as a birthday celebration part two.
He said, "one more for the queen. words can't express what a real f*cking treasure this one is 👑."
Andddddd last but not least, when Grande teased new music on her Instagram, Davidson took the opportunity to wish his fiancée happy birthday one last time (see what I did there?).
First of all, b*tch, the f*ck?! Those vocals?! Those acoustics?! Was this filmed in heaven?! Or maybe on the magical stairs of Hogwarts?! (You know Hogwarts would have the best acoustics.) Second of all, Davidson commented and said, "OMG HAPPY BIRTHDAY !!!!!" with a bunch of cloud and lightning emojis. Deep.
Another part of Grande's Instagram story that I feel obligated — nay, honored — to share is this selfie of her and Troye Sivan.
I just? Don't understand? How can such an angelic face like Troye's exist? Please tell me they were filming the "Dance To This" music video when this selfie was taken. I really need the "Dance To This" music video right now, immediately.
The "Dance To This" lyrics could totally apply to Grande and Davidson's relationship too.
The first line is, "Young ambition, say we'll go slow but we never do." I don't think I need to explain how that applies to Grande and Davidson's flash engagement. Grande's first line in the song is, "Dear beloved," you know, like the beginning of a wedding ceremony. Again, very easy to see how that line could apply to the fact that Grande and Davidson are getting married. What a ride this relationship has been so far, people. What a damn ride.