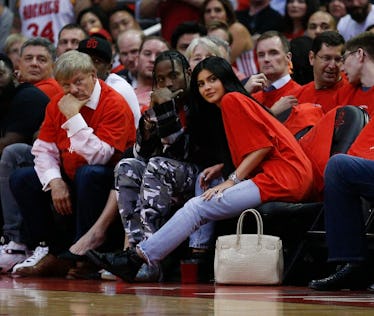 Fans Think Kylie Jenner & Travis Scott Broke Up Because Of These 4 Clues
Bob Levey/Getty Images Sport/Getty Images
I'm not trying to make anyone panic here, but are Kylie Jenner and Travis Scott still dating? I know. It's a controversial question. Ever since pregnancy reports first surfaced about these two, fans found themselves weirdly rooting for the super new couple. But, now that we're a few months into the pregnancy rumors, people are starting to wonder just how serious these two really are about each other.
In the beginning, the world watched as Jenner and Scott assumingely began dating each other during the filming of The Life Of Kylie. A very non-pregnant Jenner coyly talked about her new boyfriend and was filmed sneaking away to various cities to see this "new guy." Then, in September of 2017, People magazine broke the story about Jenner's reported pregnancy with Scott. A source told the outlet, "The family has known for quite some time. She is really excited and so is Travis."
The insider added,
People around her are really surprised. It happened really fast, but for Kylie, being with Travis is so different than anyone else. She's so in love with him. She's really excited.
Flash forward three months, and it looks like there's trouble in paradise for the couple. Signs that these two are happily together are literally nowhere to be found. In fact, there are clues that suggest quite the opposite – that Jenner and Scott might not be together at all.
1. Kylie Jenner's Absence On Travis Scott's Social Media
If you took a quick glance at Scott's Instagram account, you would have no idea he even knows who Kylie is. She hasn't appeared in any of his photos since her "Butterfly" pic in the summer of 2017. She also hasn't liked or commented on any of his posts since the pregnancy reports.
2. He's Posting Pictures Of Other Women
As recently as Dec. 27, Scott posted a picture of himself hanging out at a strip club. In the image, you can see the bare bottoms of multiple women along with loads of dollar bills scattered all over the place. Scott captioned the photo, "Hyper."
Sure, it's possible Jenner doesn't care what her boyfriend posts on his Instagram, but it is an odd picture for Scott to gram in the middle of her pregnancy rumors.
3. She Did Not Attend His New Year's Eve Show
Scott rang in the new year performing at Liv Nightclub in Miami. Fans assumed Jenner would be there to kiss her boo at midnight and to support his big performance. Alas, she was nowhere to be found.
This garnered fans' attention and sparked initial breakup rumors around the holidays.
4. Scott's Bizarre Comments On The Pregnancy Rumors
We've all been dying for Scott to weigh in on his girlfriend's pregnancy reports. When he finally did, it was a strange disappointment.
Scott sat down with Billboard magazine to talk about his career as a rapper and producer, and to apparently dodge questions about Kylie, like, 100 percent. When the interviewer asked him flat-out about the pregnancy rumors, he said, "I don't want to talk about that. They're just guesses. Let them keep fishing."
Whatever the hell that means.
The magazine also asked if his own father talked to him about becoming a dad, to which Scott responded, "Uh... for what?"
Please, Travis. Don't play stupid.
People magazine reported that Jenner's family doesn't really believe these two have sticking power. A source claimed,
It's hard for her family to imagine Kylie's relationship with Travis will last. They are worried there will be lots of drama down the road.
Right. Checks out.
Check out the entire Gen Why series and other videos on Facebook and the Bustle app across Apple TV, Roku, and Amazon Fire TV.