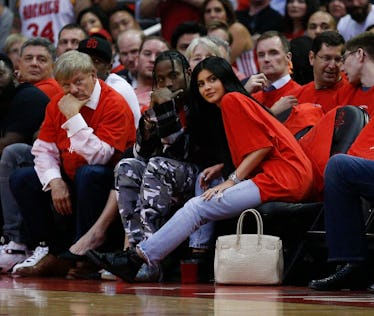 Did Kylie Jenner & Travis Scott Break Up? She Reportedly Didn't Attend His NYE Show
Bob Levey/Getty Images Sport/Getty Images
The "Where is Kylie" saga continues, but now people are starting to wonder if her under-the-radar approach means there's possibly trouble in paradise. Between limited social media postings, absence from her family's annual holiday card, and no confirmation about her alleged pregnancy, the makeup mogul is certainly keeping her fans guessing. They cannot help but ask: "Did Kylie Jenner and Travis Scott break up?"
Rumors of a split began to circulate after Scott's New Year's Eve performance. Typically, the Dec. 31 holiday is the perfect time to share a midnight kiss with bae, but it seems the 25-year-old rapper was flying solo this year. He hit the stage at Liv Nightclub in Miami for a performance (complete with a "Happy f*ck*ng new year" to the crowd, according to Metro), but Kylizzle seemed to be M.I.A. Elite Daily reached out to Jenner's rep for comment, but did not hear back at the time of publication.
Other rumors began circulating that the two parted ways over Christmas, according to Metro. It is rather curious that the photogenic youngster didn't make an appearance in the Kardashian-Jenner annual holiday card, so everyone is wondering if a rocky breakup has something to do with it. The 20-year-old hasn't been forthcoming since pregnancy rumors rocked the entire world this fall, so it's safe to say we're going to have to wait a little longer before we're given the 4-1-1.
Some sources claim things are getting messy. An insider told Radar Online that Scott plans to be around for the baby, but couldn't commit to a relationship anymore. Jenner, on the other hand, refuses to let their love come to a close, according to these reports. Keeping up with King Kylie is never an easy feat.
Despite the whirlwind of speculation, it seems that there are plenty of instances that dispute the rumors. The two were spotted in a public appearance at Kris Jenner's Christmas party (complete with adorable photos), and if she is pregnant as rumored, it's entirely understandable that she might not want to spend the night in public. Although King Kylie is closing out the year with a magazine cover, so perhaps she's not in hiding like people might believe. Either way, she's going to call the shots, and we'll have to hang tight until she's ready.
Meanwhile, big sis Kendall Jenner is fighting pregnancy rumors of her own. News began circulating via MTV Australia that the supermodel could quite possibly be expecting. MTA Australia picked up on Jenner's Instagram photo — a bathroom selfie in a skin-tight polka dotted dress — and sent out a tweet that read, "Ummm so fans now reckon @KendallJenner is preggers thanks to this Instagram pic?!"
But if there is a family out there who knows its way around social media, you better believe it's the Kardashian-Jenners. A rumor-fueled statement is nothing the 22-year-old can't handle, so she decided to shut down the questions once and for all. Jenner replied, "i just like bagels ok!!! and linked back to the MTV Australia article. (Kylie, we think it's your move now.)
While Kenny is making jokes and King Kylie is keeping a low profile, Khloé Kardashian is an open book. Khloé Kardashian revealed her "Best Nine" on Instagram, and the collage proves she's in for quite a ride in 2018. Better get those diapers ready, Koko. When showing off her best pics of the year, Kardashian wrote a lengthy and emotional caption to go along with her year-in-review. She said,
This past year has been full of love, blessings and happiness! Lord knows I'm grateful for the place I am in in my life! I tell Him daily 🙏🏽 but I can not begin to explain my excitement for everything new in 2018!! Nerves and anxiety are an underestimate. I'm thankful to have a beautiful support system in place to help me celebrate New chapters! New experiences! New beginnings! I'm trusting the magic of NEW this 2018!
Though Kylie's big sisters are a little more open than the 20-year-old, fans can only sit tight and wait for the reality starlet to make her big reveal. For now, try to get a copy of her Love Magazine cover and keep an eye out for her public appearances. Looks like you're not going to get an update until Ms. Jenner is ready to give one.
Check out the entire Gen Why series and other videos on Facebook and the Bustle app across Apple TV, Roku, and Amazon Fire TV.