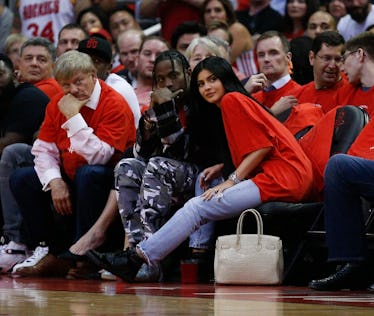 Kylie Jenner & Travis Scott Just Made Their First Appearance Together In Months
Bob Levey/Getty Images Sport/Getty Images
Fans think they saw the first photos of Kylie Jenner's baby bump on Dec. 27. The photos are paparazzi shots from September that showed Jenner wearing a baggy sweatshirt and seemingly resting her hand on her reported bump while at Jordyn Woods' birthday party. Those photos are old, though. We haven't seen many new photos of Jenner since the rumors of her pregnancy first started, but she did pose for some shots with Khloé Kardashian at Kris Jenner's holiday party. Now, new photos of Kylie Jenner and Travis Scott at the Kardashian Christmas party have surfaced, and it's the first appearance the couple has made in months.
There are two photos to ogle over here. They're both from the photo booth all of the Kardashians use at their parties throughout the year. In the shots, you see Jenner and Scott posing together in what I can only call a prom pose. Of course, there's absolutely no sign of Jenner's reported baby bump. Some fans think Scott has his hand placed on the bump in one of the photos, but considering we can't see anything below Jenner's chest, we have no way of actually knowing where his hand is. But we definitely can guess and make conspiracy theories (as we always do)!
Jenner and Scott look so happy in the photos from Mama Kris Jenner's Christmas party.
You can tell Scott's arm is wrapped around Jenner's stomach, but whether or not a baby bump is there is impossible to determine. These are the first photos of Kylie Jenner and Travis Scott we've seen in a while. Jenner has been keeping an especially low profile ever since rumors of her pregnancy first surfaced in September. Sources say Jenner stepped out of the spotlight in order to savor her pregnancy in private, but other sources also say she won't be confirming any rumors until after she has given birth. So we're basically stuck in a waiting game until the third Kardashian/Jenner pregnancy rumor is confirmed or denied.
Fans think they found the first photos of Kylie Jenner's baby bump on Dec. 27.
You can see the paparazzi photo in question here. These photos came as a sigh of relief for fans who have been impatiently waiting for Jenner to confirm or deny her reported pregnancy for months. Lots of fans believed they'd see pregnant Kylie Jenner on day 25 of the Kardashian Christmas card, but Jenner ended up not appearing in any of the holiday photos, just like Rob Kardashian, Scott Disick, Tristan Thompson, and Travis Scott.
Fans were disappointed the Kardashians planned this elaborate, drawn-out advent calendar only to find that the last day wasn't some kind of huge reveal. It was just a big family photo, with no pregnant Kylies involved.
In all fairness, we've been waiting a hell of a long time to know for sure if Kylie Jenner is pregnant. There have been conspiracy theories galore, like this one that claims Kylie Jenner is Kim Kardashian's surrogate. And then there were those fans who spent a lot of time searching for clues that Kylie Jenner is pregnant on her Snapchat and Instagram. None of these rumors/hints have been confirmed or denied.
On the other hand, it's completely within Jenner's rights not to confirm or deny any of these rumors. If she is pregnant, this is a life-changing time that she deserves to keep private if she wants. Being famous doesn't mean she owes us the deeply personal truths about her life — that's not what people sign up for when they get famous. So while it is frustrating to wait, it's what we have to do until the day Jenner decides she wants to confirm or deny these rumors.