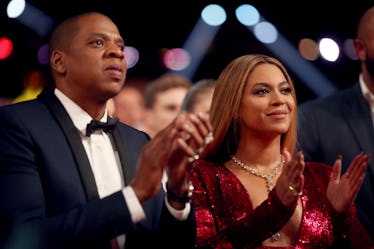 Blue Ivy, Rumi, & Sir Carter Didn't Walk The Grammys Red Carpet & Twitter's Sad AF
Christopher Polk/Getty Images Entertainment/Getty Images
We're all so crazy in love with Beyoncé. She's never failed to be our biggest celeb obsession and a graceful goddess that walks amongst us. Since the days of "Single Ladies," she's had a solid squad of fans that will drop everything just to show some support. From stadium tours to Super Bowl shows, she's never failed to impress and inspire us on every single level. Naturally, fans are once again totally in their feels and wondering: are Blue Ivy, Rumi, and Sir Carter at the Grammys? In fact, it doesn't seem any member of the family walked the red carpet, and we're a little shocked.
Update: Midway through the show, Beyoncé and Blue Ivy joined JAY-Z in the audience of the Grammys. Rumi and Sir did not appear to be present.
Earlier: In 2017, Beyoncé broke the Internet when she made her pregnancy announcement on Instagram. She sat surrounded by gorgeous flowers with a sheer green veil. Oh boy, did the Beyhive feel #blessed when that image filled their feeds. And when the twins were born, she posted something similar, this time with Rumi and Sir Carter cuddled into her arms. Can you imagine what it must be like to have Beyoncé as your mom? OK, take a deep breath.
At last year's awards show, Blue was one of the stars of the show, rocking the red carpet and capturing all our hearts with every crowd shot. Although the twins haven't made much of a public appearance to date, we were all secretly hoping that this year's Grammys would be their time to shine.
In between tearing up over a very supportive Blue, we grabbed even more tissues when Queen B slayed the 2017 Grammys stage while pregnant, proving that girls really do run the world. At one point she was titled back in a chair, having every member of the audience and dedicated fan watching at home in total awe. Beyoncé never fails to be the most eye-catching entertainer, and with simple stunts like this, fans were absolutely freaking out.
They say that everyday, we have the same 24 hours as Beyoncé. And while that's totally inspirational, after watching this performance, I was truly convinced she was way above average.
Bey took the stage again, dressed in gold, to accept her award for Best Urban Contemporary Album for her most cultural and visionary album yet, Lemonade. She spoke about her thoughts behind creating an amazing film and the inspiration for sharing such a meaningful message.
"My intention for the film and album was to create a body of work that would give a voice to our pain, our struggles, our darknesses, and our history," she said. "To confront issues that make us uncomfortable." The music videos for singles like "Formation" and "Hold Up" show a clear representation of Southern culture and sparked a lot of much-needed conversation.
She continued to talk about Blue in her speech, and how she wanted to show her daughter what inner beauty was really all about. The camera cued to cute shots of JAY-Z and Blue sitting supportively in the audience. Now, a year later, the twins are in the picture and this positivity will be a part of their lives, too. Stay gold, Beyoncé.
So, what are fans saying about not seeing the family on this year's Grammys red carpet? We took to Twitter to see the most stressed out and caring commentary.
Some fans are still totally in denial, and assuming that she'll just show up late:
We'll still be scanning every crowd shot for one of our favorite celeb families. You can catch Queen B again in April headlining Coachella's Saturday show. Maybe her oh-so-cute kids will be a little bit more grown by then and make some sort of an appearance. Either way, it'll be nothing short of iconic.