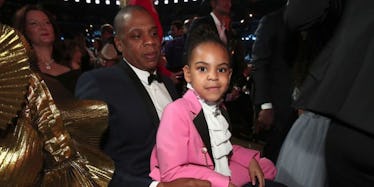 Blue Ivy's A "Very Proud" Big Sister To Beyonce's Twins Rumi And Sir Carter
Christopher Polk / Staff / Getty Images
Not that I ever doubted it, but it turns out Blue Ivy Carter is adjusting quite well to the role of big sister, and I'm willing to bet Mama Beyoncé is proud of her tiny tot.
On Saturday, Bey's mom, Tina Knowles Lawson, told Entertainment Tonight that Blue can't get enough of the twins. "She's proud and very excited," Knowles Lawson said. "She's a good big sister, she really is."
D'aww! We can't take it! #SiblingGoals
Blue — and you know, the entire universe — is loving everything about Rumi and Sir Carter.
Everyone completely lost their cool when Bey took to Instagram to share her first photo of the 1-month-old babies.
Like her maternity shoot, Queen Bey is pictured in a veil standing in front of an intricately planned bouquet. Naturally, we collectively freaked out. The florist Queen Bey used must also be quite pleased with these announcements and has probably raked in more money than God at this point.
But with every bit of good news comes those who hate. Some took to Twitter to take a jab at Beyoncé's "extra" pregnancy photos, and the Beyhive was, of course, not having it.
You better believe if Baby Blue was old enough, she would have something to say on Twitter. No one can talk smack about the twins!
In the Carters' defense, the Beyhive fired back after claims about being "extra" surfaced.
I guess it's safe to say when you step out for your first date night post-pregnancy and you look like this, people are going to be a bit jelly.
Blue Ivy, I'm glad to hear you're having a good time with your baby brother and sister.
Obviously, Bey, if you're ever in need of a babysitter, I know a few people who are willing to take on the responsibility!