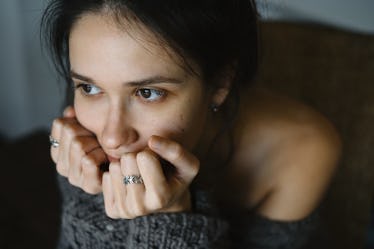 These 3 Zodiac Signs Will Have The Worst Week, But They'll Learn So Much Along The Way
Not only is it a brand new week, it's also a brand new month. It's when seasons change that we begin questioning our fate. We look to horoscopes for answers to burning questions like, "Will I get rich?" or "Will I fall in love?" Unfortunately, you won't find too much reassurance here, because starting April 30, this will be the worst week for these zodiac signs: Libra, Scorpio, and Pisces. If you made the list, then you might not find yourself relishing the springtime joy anywhere near as much as your peers.
But let's look at the bright side, shall we? This week's astrological mayhem won't be all that deadly. Although we're still fighting through Pluto, Saturn, and Jupiter retrograde, this week provides us with a moment of calm. The Scorpio full moon is over and done with, Venus is still in chipper Gemini, and the sun will sextile dreamy Neptune by the end of the week.
The only reason certain signs will have a more difficult week than others is due to pressure on their own personal planets. However, this doesn't guarantee they'll have a terrible time. In fact, it might even be irresponsible for me to say that this week will be the "worst." Forgive me; as a Gemini, I can be a little dramatic.
Libra: "Adulting" Might Be Even Harder Than Usual
You're experiencing double-duty stress on on your finances right now, so hang in there. Your money planet, Pluto, is making the rounds in a debilitating retrograde, and Jupiter retrograde is also creating a mess in your second house of money. Avenues that normally run smoothly at work might be all jammed up, and your direct deposit might be worth a lot less than you were hoping it would.
To make matters more exhausting, Uranus is causing a commotion in your seventh house of love. If you're in a relationship, it may be on thin ice right now. However, due to the unpredictable nature of Uranus, this is not guaranteed. The twists and turns in your love life might actually make things more exciting. If you're single, your heart may even go on a wild ride. As long as you remain mentally prepared for sharp turns and unexpected drops, you'll be able to handle it.
Scorpio: You Might Be Distracted From Your Responsibilities
Your whole life is one big roller coaster ride with Pluto, your ruling planet, in retrograde. However, it's not all bad: Venus and the sun are both currently infusing your seventh house of partnerships with romantic energy. With Neptune forming a sextile with the sun, there's a chance you could spend your whole week in a trance. You might find yourself daydreaming about overly sentimental things, such as the moment you'll get to kiss your lover next, or what your soulmate's smile will look like when you meet them.
While you're feeling all lovey dovey, your financial planet, Jupiter, is in retrograde. If you don't pay attention to your responsibilities and get to work, the retrograde will only dig you into a deeper hole that's even harder to climb out of. Make sure you keep yourself in check.
Pisces: Try Not To Look At Your Bank Statement
Before I get into the bad news, let me tell you the good news: You barely made the cut this week. Truthfully, you probably won't even have that difficult of a time. There are still many harmonious planetary aspects in your world making all the negativity bearable. The sun is fully charging your third house of communication. As it forms a sextile with your ruling planet, Neptune, you'll feel very in-tune with your most authentic intelligence. You'll be amazed by the beauty tumbling from your mouth whenever you speak, and you'll feel like writing poetry, or hosting an intellectually stimulating dinner party.
The bad news is that Jupiter, your career planet, is in retrograde. If your ego is easily tripped up, you might feel bummed out that things aren't moving as quickly as you'd like them to at work. You might not feel like you're getting the recognition you deserve, either. All in due time, Pisces. For now, take a break from materialistic ideas about "success."