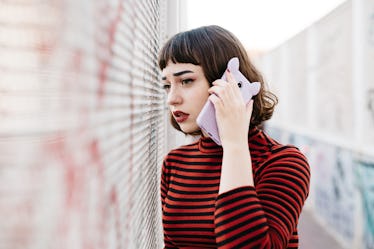 These 3 Zodiac Signs Will Have The Worst Week, So Take It Easy
As you know, life isn't a smooth ride. It's full of ups and downs, twists and turns, shock and fury, among everything else. While I could lie to you and say that everything will always be peaches and cream, what would that prepare you for? I'm not an astrology mother who shelters you from the truth. I'd prefer to be a motivating coach, arming you with reality. This is why I'm not going to mince words when I say that starting April 23, 2018, this will be the worst week for these zodiac signs: Taurus, Cancer, and Aquarius.
Alright, so maybe I'm not as unapologetic as I'd like to think I am, because I also don't want you to go through this week fearful that everything is about to go completely wrong. There's no reason why you can't have an amazing week if your zodiac sign happens to be on this list. All astrology does is describe the planetary forces adding more strain on certain aspects of your life. Strain doesn't equal misery. In fact, going through a challenge can be so much more gratifying than a week of pleasant sailing. Why? Because accomplishing something difficult means so much more than gliding your way through without issue. It means you've changed. It means you've triumphed. It means you've grown.
Taurus: You Might Not Have Much Luck In Love
There are plenty of wonderful things happening for you astrologically, so it shouldn't be too much of a bummer that romance might not be the easiest thing for you to come by right now. Your love planet, Pluto, entered retrograde last week on April 22, and the effect will feel like a sudden shock. For the next few months, the road to your true love will be a lot bumpier and full of sharp turns. There might be moments where you'll doubt if your relationship can make it. You might feel like no matter how hard you try, no one is meshing with you they way two lovers should mesh. Which is exactly why you shouldn't try. Allow love to develop naturally, at its own pace.
This shouldn't sully your spirits too much, for the sun is still infusing your first house of the self with energy from your own sign. This makes you feel safe in your own skin, like the world is unfolding for you with ease.
Cancer: You Might Feel A Lot More Competitive Than Usual
Competitiveness isn't a quality you're usually comfortable with. Normally, your main concern is maintaining harmony within your heart, keeping your loved ones as close to you as possible. Needing to be the best just isn't a desire Cancer is known for. When Mars and Pluto combine for fiery results this week, you may feel a sudden dip in your trust in others. This can cause feelings of envy and aggression, making you feel like fighting forces that threaten your relationships. You may feel like someone else is taking your place in someone's heart or at work, which will cause you to fight for your position.
However, all this stressful pressure on you will fall away in place of the full moon in Scorpio, occurring in the best astrological house of all time: your fifth house of pleasure. Prepare for inspiration to strike you with electricity.
Aquarius: There Are Things You May Feel Guilty About
The stressful connection between Mars and Pluto this week affects you in your twelfth house of spirituality, mystery, and secrets. Saturn retrograde is also taking its toll in this aspect of your life. You're in the midst of undergoing some major realizations about your life that might not be pretty. In fact, they might be downright shameful, and this week you'll be forced to reckon with them. You may find yourself pondering the past, wondering what went wrong, thinking about what you should have done and what you decided to do instead.
As difficult as these thoughts may be, it's important that you direct them towards change. By the full moon in Scorpio, you'll be able to revitalize your entire life. If you work hard and make things right in the meantime, you will feel like a weight has been lifted from your chest.