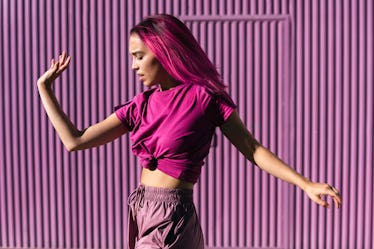 All The TikTok Clothes To Buy That'll Bring Your Dance Vids To The Next Level
Westend61/Westend61/Getty Images
You spend hours learning the different moves for every popular dance challenge on TikTok, so why not spend some time shopping for the glowing shoes and shirts that'll make your videos pop? A fire look would certainly raise the bar for your competition, and maybe even snag you some rad comments like, "This needs to be on the #ForYou page." Start by looking at these TikTok clothes to buy for your next dance challenge and seeing what appeals to you.
Truth be told, there will always be new trends you can add to your wardrobe, like tie-dye sweatsuits, graphic tees, and cool sneakers. But, it's most important to find what looks and feels good for you. You might want to add items to your cart that you can imagine yourself doing "The Renegade" in, or that you think would spruce up the #bffdance you're going to slay with your roomie. At the end of the day, these TikTok clothes will gear you up to master a successful dance challenge video.
Add these items to your cart like it's your full-time job. These TikTok clothes are a mix of what's in and what would look totally rad in your next dance video.
We only include products that have been independently selected by Elite Daily's editorial team. However, we may receive a portion of sales if you purchase a product through a link in this article.