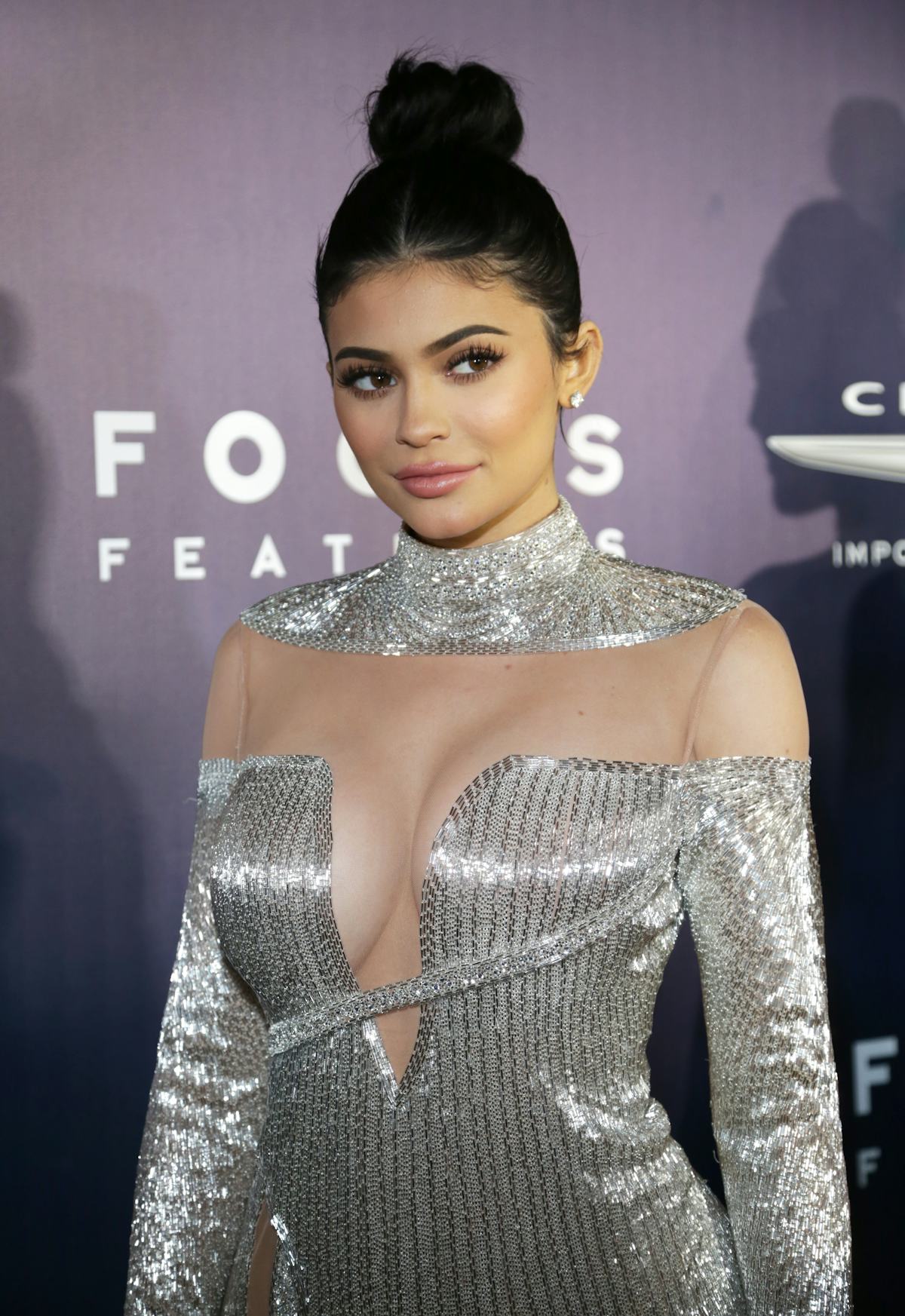 A Fake Video Of Kylie Jenner's Baby Bump Is Circulating & That's Not OK
Loreen Sarkis/Getty Images Entertainment/Getty Images
Look, it's no secret that everyone is anxiously awaiting news of whether or not Kylie is pregnant. The fact that she wasn't featured anywhere on the Kardashian holiday card is definitely a tough pill to swallow, but a fake video of Kylie Jenner's baby bump is making its rounds on the internet and honestly, you guys, it's just not cool.
The video shows Kylie and Kendall looking glamorous as hell, with Kendall in a stunning orange dress with a high slit and Kylie in a sparkly silver gown with an equally high slit (both sisters channeling their inner Angelina Jolie, perhaps?).
But their wicked good taste in dresses is not the focus of the video – it's the fact that fans think Kylie appears to have somewhat of a baby bump in it. We see both sisters killing it in front of the camera, and Kylie does this little *move* where it looks like she's sort of rubbing her stomach. So add that belly-rub move on top of what seems to just be a very unflattering angle of the Jenner sisters and what you get is the internet freaking out, assuming that this is a new video that essentially confirms what we've all been waiting for: that Kylie Jenner is pregnant.
Well, you guys, joke is on us, because this video is OLD! It's ancient! It's basically a dinosaur!
This video was apparently taken at a Golden Globes after party... 11 months ago. Meaning even IF this was a baby bump, well, the baby would be here by now. And IF Kylie was pregnant in this video, then Travis Scott would decidedly not be the baby daddy, considering the couple didn't even start dating until April. So yeah, the person who started the rumors clearly wasn't doing the right math.
Are you still not convinced? Let me clear things up just a bit more for y'all.
Here's ( a sideways) Kylie in a video she posted to her Snapchat. Not only is it a full body shot, but she even does a complete 180-degree turn in the mirror, showing off her VERY flat stomach:
And here she is head-on, looking absolutely slamming, with a friend hugging her around her VERY tiny waist:
And here she is from behind, looking really, really not-at-all pregnant:
And here she is with Kendall eating pizza. OK, so this doesn't really prove anything, but I just wanted to show the world that the Jenner sisters eat carbs and I just really appreciate that:
The video of Kylie's fake baby bump comes at a time when fans are getting desperate for answers as to whether or not she's pregnant, especially when the last day of the Kardashian holiday card didn't feature Kylie. Although she apparently attended Kris Jenner's Christmas Eve party, she basically ducked the cameras for the entire night, and the world didn't get any form of pregnancy confirmation.
Fans were... how can I put this nicely... less than pleased at the lack of seeing photos of Kylie at the party or on the holiday card:
But honestly, it's our own damn fault for getting our hopes up and thinking that Kylie would give us some sort of holiday miracle. We've only got ourselves to blame, people!
And even though we still have no real answers when it comes to Kylie and her baby bump, we can at least be thankful for one thing this year – and that's Khloé Kardashian announcing her pregnancy on Instagram.
So thank you, Khloé, for making our holiday dreams come true. You've officially made our "nice" list.
Kylie, there's still hope for you. Might I suggest a New Year's Eve pregnancy reveal? If not, that's totally cool – we'll just toast to Khloé instead.