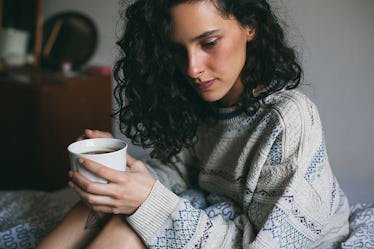 Experts Say Doing These 9 Little Things Every Day Will Help You Avoid The Flu
It's already started, folks: the incessant sneezing, coughing fits that burn your throat, and chills that make you shiver and sweat simultaneously. Flu season is in full swing, and this year's strain is one of the worst we've seen in a while. If you were vaccinated before symptoms started popping up, congratulations, friend, you're way ahead of the game. But even the shot isn't always 100 percent effective, so you need to start actually implementing little ways to avoid the flu into your everyday routine to ward off any germs you might be exposed to. Especially now, when the virus's hospitalization and fatality rate is so high, it's vital that you take every precaution necessary to keep yourself healthy.
By now, flu warnings probably feel like a broken record on repeat, especially if you're far removed from the reality of just how serious it has been. Personally, I'm concerned that these blaring sirens of safety you need to hear and pay attention to are fading to white noise. Things like washing your hands with warm water and soap before every meal, covering your mouth when you sneeze, and getting enough sleep are all behaviors we've been encouraged to put into practice from the get-go for a reason: They work.
It sounds cliché, but neglecting to properly take care of your body can lead to illness, and judging by the severity of this year's virus, it's not worth the risk. Here are a few easy tips and tricks from experts to help you combat the flu and stay healthy all season long.