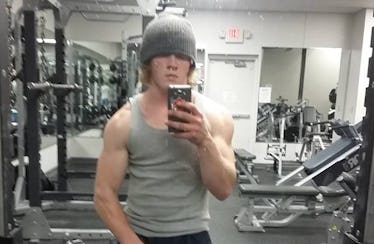 A 21-Year-Old Bodybuilder Lost His Life To The Flu Just Days After His Diagnosis
"Flu season" has become a relatively common description for the winter months, so much so that we've become somewhat far removed from what the turn of phrase actually means. Influenza is a viral, very serious infection that can be fatal if not treated properly, and this season has proven to be a heartbreaking period with outbreaks leading to sudden tragedy. Twenty-one-year-old bodybuilder Kyler Baughman died from the flu only a week or so after catching the bug, not having realized the serious nature of the disease and the rest that his body truly needed to recover.
Baughman's sudden passing comes as a shock to friends, loved ones, and anyone who's come across his story over the past few weeks. The aspiring personal trainer, who prided himself on his strength and health, fell ill around the holidays, and passed away in UPMC Presbyterian Hospital in Pittsburgh on Dec. 28, 2017, just five days after returning home to Latrobe, Pennsylvania for the winter break. The cause of death, Baughman's mother told WPXI, was organ failure "due to septic shock caused by influenza."
The flu is spreading earlier, faster, and with a vengeance this year, and the number of hospitalizations and deaths are nothing short of concerning. Live Science reports that in January of 2017, only 12 states reported flu activity. Fast-forward to Jan. 8, 2018, and already, a disturbing 46 states have confirmed spells of the disease.
Unfortunately, Baughman is not the first young person to lose his life from flu complications this year.
Typically, the flu isn't fatal for people in their 20s. Dr. William Schaffner, an infectious disease specialist at Vanderbilt University Medical Center, told Newsweek that the virus generally attacks children and young adults "in the prime of their life," while the Centers for Disease Control and Prevention's WONDER database found the flu is most commonly the cause of death for people 80 years and older. For some reason, though, this year's spread is lethal, and age seems to be irrelevant.
New York Daily News reported on Dec. 4, 2017 that 20-year-old mother of two Alani Murrieta passed away from heart failure in response to pneumonia contracted from the flu. Her case, like Baughman's, was just as rare and equally as shocking, seeing as how the young woman had had no pre-existing health conditions prior to the illness that ultimately took her life.
Murrieta became ill not long after Thanksgiving weekend. She went to an urgent care clinic to get checked out, was prescribed antiviral medication. and took the necessary precautions as instructed. Unfortunately, though, her symptoms worsened. Murrieta's aunt, Stephanie Gonzales, told BuzzFeed News her niece went to the emergency room, and an X-ray revealed she had developed a "bad case of pneumonia from the flu." She passed away while being transported to the ICU.
With Baughman and Murietta's tragic cases in mind, it's important to take care of our bodies to protect ourselves from the flu.
Keep in mind that Baugher and Murietta's tragic deaths are unusual and rare, but even so, 650,000 people suffer from and die of respiratory complications that stem from the flu — a statistic which, SFGate reports, has increased over the past decade.
According to executive director of World Health Organization's Health Emergencies Programme Peter Salama, these new data show that influenza is still a very real threat to our health, and it's important to take the necessary precautions in order to prevent outbreaks. Getting vaccinated every year to strengthen your immunity is one of the best ways to protect yourself against the virus, but there are also little day-to-day behaviors you can practice that will decrease your risk.
I can't stress enough just how important it is to listen to your body and go the extra mile to ensure you're doing what is necessary to stay healthy year-round. Things like washing your hands after using the bathroom, before you prepare and eat every meal, cooking and defrosting meats thoroughly, sticking to a regular exercise routine, and eating a well-balanced diet are all little details that make a huge impact on your body's ability to fight disease. Implement these practices into your routine starting now, and try to become more in tune with what your body needs. Trust me, it knows best.