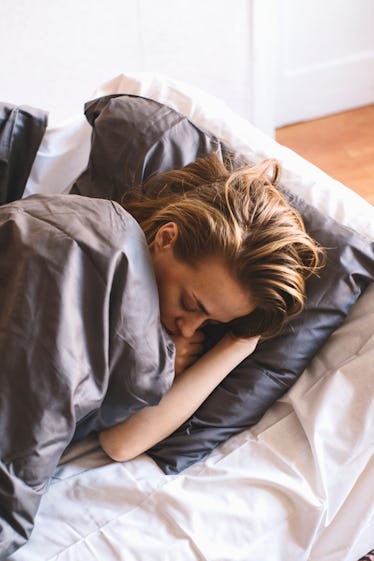 You Can Still Get A Flu Shot On Your College Campus, But Here's What You Need To Know
Flu season is well underway, and if you were on the fence about getting vaccinated in September, you might be starting to change your mind right about now. Normally, the flu is only a major concern for young children and the elderly, but Peter Van Zile, principal scientist at GSK Consumer Healthcare (the makers of Theraflu), tells Elite Daily that the H3N2 flu strain — circulating right now as we speak — causes more fatalities than many other variations of the virus. The good news is you can get a flu shot on your college campus, depending on your school, so don't panic if you're stranded and can't make it home for an appointment with your family doctor. Judging by the record-breaking number of fatalities and hospitalizations within the last few months, though, I think it's fair to assume we're all at risk, so it's definitely worth taking a walk over to medical services to check out what they have to offer.
If you think about it, it makes total sense to have flu vaccinations available to on-campus college students. These 20-somethings live in such close proximity to one another that oftentimes it can take just one diagnosis to spread and cause a campus outbreak. Providing flu vaccines on college campuses offers young adults an accessibility they might not have had otherwise.
To be honest, people of all ages — not just millennials — can get lazy about their health and making the effort to go above and beyond to ensure their well-being is taken care of. If this sounds familiar, by the way, I'm in no way judging you. I personally never opted to make an appointment for a flu shot until my husband's company offered them for free. All people, especially college students, appreciate convenience — but is that enough to motivate them to get vaccinated?
In 2017, the vast majority of college students failed to get vaccinated for the flu.
A lot of young people, and college students especially, tend to live by a sort of "it won't happen to me" mentality, and convince themselves they're invincible to anything bad happening to them. Trust me, I've been there, too. You assure yourself that staying out late, masking exhaustion with caffeine, and putting simple acts of hygiene — like washing your hands before you eat, or after going to the bathroom — on the back-burner won't catch up to you. By neglecting to properly take care of yourself, though, you're putting your health at risk.
According to a 2016 National Foundation of Infectious Diseases (NFID) report, it was found that only about eight to 39 percent of students on college campuses were being vaccinated for the flu. While these numbers are concerning, the reasons why students avoid the shot are troublesome, as well. Libby Caruso, director of The College at Brockport's health and counseling services, told NBC News that students "don't see themselves as vulnerable," despite encouragement to get vaccinated from parents and teachers.
Tori Martinez, a student at Brockport, went on to explain to the news outlet that the last time she was vaccinated was when she was 12 years old. The reason, she explained, is because she's "young and healthy," and if she were to catch the virus, her body would "fight it off within a few days."
Unfortunately, being "young and healthy" doesn't protect you at all costs. According to the NFID, college students exposed to the flu virus can be battling symptoms for eight days or more. This is because, on a college campus, students are crammed in hallways, dining rooms, shared bathrooms, and dorms, so the illness travels quickly and feeds off the germs surrounding it.
The flu shot is available for free on most college campuses, so you should definitely take advantage of the service.
Despite almost every media outlet reporting on the many hospitalizations and tragic fatalities of young people due to influenza, the NFID reported in early December 2017 that the percentage of college students getting vaccinated is still "shockingly low," due to misperception of health and immunity, accessibility to vaccines, and the cost of the shot. It's unclear whether or not schools are adamantly advertising their free vaccination offerings, or whether students just aren't taking advantage of the opportunity. Either way, something needs to be done.
In an exclusive interview with Elite Daily, Dr. Ian Tong, chief medical officer at Doctor on Demand, explains that, oftentimes, student health departments "sponsor free influenza vaccine events" where either medical professionals come to the school, or medical students and undergrads administer the vaccine under supervision of licensed physicians. This way, medical students get hands-on experience, and students are vaccinated for free.
If you don't want to get vaccinated on campus, and can't make it home to see your family doctor, there are other options.
Have you ever driven home from school or work and passed by a Walgreens with a sign out front that flashed "flu vaccines here," but been skeptical of whether or not those shots actually work? Rest assured, pharmacy walk-in treatments are actually legit, so if you can't get your flu shot on-campus, you might want to consider this as an alternative.
Dr. Azmina Bhayani, family medicine physician in New York and fellow with Physicians for Reproductive Health, shares another way to stay healthy this flu season. She tells Elite Daily that if you log on to the official Centers for Disease Control and Prevention website, you can type in your zip code to locate where you can get the flu vaccine in or around your area. Dr. Tong adds that retail clinics and chain pharmacies will generally take down your medical insurance information first, and let you know if the shot is covered, or if there will be a small co-pay.
Bottom line: do your research. Take a walk over to health services on-campus, and ask if your school offers flu vaccinations. There's a good chance it does, and that it won't make you pay for the shot. Worst case scenario: Find a clinic or pharmacy nearby that either allows walk-ins, or allows you to make an appointment. Remember, it's never too late to get the flu vaccine, and getting the shot now might just do you a world of good in the long-run.