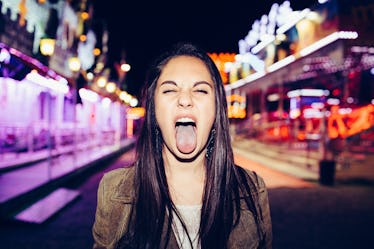 6 Reasons To Try Tongue Scraping, Even Though It Does Look A Little Gross
2018 is the year I get my sh*t together guys, and that means all aspects of self-care have to be accounted for. Yeah, I'm working on my fitness, and I'm pampering myself a few times a week with face masks and bubble baths, but I'm especially focusing on my oral hygiene, too. It sounds sort of random, I know, but I stumbled upon this fancy microscopic brush also known as a tongue scraper, and I had to know, what is tongue scraping, and what sort of magic can this dingle-hopper of a non-toothbrush do for my mouth?
Obviously, I brush my teeth twice a day, and on occasion, thoroughly floss (probably not as often as I should be though, and shoutout to my dental hygienist for pointing that one out), but I had a feeling there was more I could be doing for my tongue, taste buds, and the serious morning breath my husband has the pleasure of smelling every morning. One of my favorite wellness influencers, Lee Tilghman (aka Lee From America), openly discussed her obsession with tongue scraping not too long ago, and I took it as a sign that I needed to try it for myself. I needed to start tongue scraping, and I needed to start now.
Why tongue scrape, you ask? Listen, I'll admit it definitely comes off as some voo-doo practice that looks hella painful but, really, I've come to find it's a gem of a self-care technique that makes your mouth feel amazing. But, if I've yet to persuade you, check out these six reasons why tongue scraping is the self-care hack you need in your life.