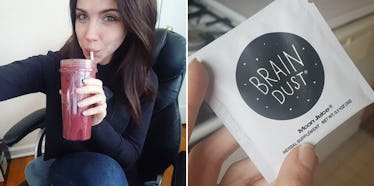 I Tried Brain Dust To Get Out Of An Afternoon Slump & Here's What Happened
Julia Guerra
As a self-proclaimed health and wellness guru, I'm always intrigued by the latest trends, especially when it comes to supplements. For example, I just had to try spirulina when those gorgeous pale-blue smoothie bowls were sprinkled among my social feed in the summer of 2017. Needless to say, it wasn't my jam, but then I came across Moon Juice's adaptogenic herbs, and my interest was piqued once again. I'm a morning person myself, but once the afternoon hits, my brain gets foggy and the slump is a serious struggle, which is why I needed to know, does Brain Dust work and, if so, how well?
I'd been noticing adaptogens popping up all over the Instagram accounts of the wellness influencers I follow for months before the herbal supplements actually resonated in the space. While it's no secret that holistic traditions are becoming mainstream, like anything else, it's important to take remedial trends with a grain of salt until you do your own research on the subject.
I agree that social media is an excellent resource to keep track of what's up and coming, but a lot of pseudo-health trends (i.e. raw water) that aren't actually the best for your body have gained popularity based on a combination of gorgeously filtered photographs and lack of knowledge. Before taking my or anyone else's word, make sure you get better acquainted with a product and its ingredients before putting it into your own body. Taking my own advice, I decided to do some research myself to determine what, actually, is Brain Dust?
Brain Dust is a powder supplement made from adaptogens — aka various kinds of herbs — to enhance mental focus.
Brain Dust, $38, Moon Juice
Moon Juice, the company that manufactures Brain Dust, sells a collection of adaptogenic powders with focuses on beauty, sex drive, stress relief, and physical, as well as mental, performance. Among the choices, I thought that committing to a Brain Dust trial would be best suited for me, as that's probably the area I struggle with the most. My productivity plummets come 2 or 3 p.m. which, as you can imagine, is unacceptable when I'm juggling work, social engagements, and taking care of my little family here at home.
As someone who suffers from a sensitive stomach, it's really important that I do extensive research on a product's ingredient list before introducing it to my delicate digestive system. Especially with supplements, you have to make sure that what the compound is made from is something your body actually needs, which is why my first order of business was to a) read the ingredients list and b) find out what their purposes are.
I tend to gravitate more toward supplements that contain minimal ingredients I can actually pronounce, so I was thrilled to skim over Brain Dust's label and find that the dust was comprised of only seven ingredients, all of which I could properly say aloud. However, I was only familiar with three out of the four ingredients: ashwagandha root/leaf extract, which helps aid in stress relief, maca powder, an energy booster, and lion's mane root for optimal brain performance. The dust also contains astragalus root extract, which is derived from legumes and acts as a stress-reliever, rhodiola root extract, aka the "golden root" to heighten brain performance, ginko leaf extract to improve mood and memory, as well as stevia leaf extract to taste.
If you're thinking about trying this stuff but you're worried about your taste buds, the good news is you can easily add any of these Moon Juice dusts into your favorite hot drinks or smoothies.
As far as how you can implement these adaptogenic dusts into your everyday routine, they're pretty versatile. According to Brain Dust's product description, the powder can be added to hot beverages like coffee and tea, spooned into smoothies, a glass of water, or mixed into oatmeal or nut butter on a piece of toast.
Fair warning, though, I have tried other Moon Juice dusts prior to this particular experiment. I added one to a hot cup of tea, and the taste was brutally strong. This time around, I decided to mask the bitter taste with a smoothie made from Trader Joe's frozen berry medley, unsweetened almond milk, cacao powder, and a bit of water. Now that is what I call edible intelligence.
Even though I couldn't taste the Brain Dust, I certainly felt the effects of it.
To say that I was dumbfounded by just how fast I felt the effects of the Brain Dust would be the understatement of the year. I start sipping my smoothie around 2 p.m., and by the time I was done — around 2:15 p.m. or so — it felt like I'd just downed an espresso without the grueling stomach ache. My editor can vouch for me: She called me out for sending a whopping 11 messages in a row just as the Brain Dust was hitting my system. To say the least, I was wired AF.
According to the product's description, Brain Dust apparently "helps enhance focus and mental stamina," promotes "mental clarity and concentration," gets you in a "positive mind and mood," and reduces "stress and tension." From my experience, I can honestly say the label doesn't lie.
My writing shift ends around 4 p.m., so by the time 2 p.m. rolls around (on a Friday, mind you), I'm usually hanging by a thread. I was low-key struggling as I worked on my last article of the day, but I was suddenly overcome with a jolt of inspiration midway through my Brain Dust smoothie. The article turned out much better than I'd originally expected it to, and I felt downright amazing — not just about my work performance, but also about life in general.
To sum up my experience with Brain Dust, it was almost like I was on a caffeinated high, but without the caffeine which, for me, earns major points in favor of natural supplements. I felt hyper-alert for the rest of the day, and I actually think the stuff might have made me an even better driver than I usually am. I was feeling the effects all the way up until about 10:30 p.m. when I was making the trek home from my parents' house. In total, one serving yielded a solid eight hours of energy.
Personally, I'm impressed, and super curious to see what other kinds of magic these adaptogenic dusts can do. If you're considering giving this stuff a try, make sure it's safe for your body and your unique needs, then drink up, baby!