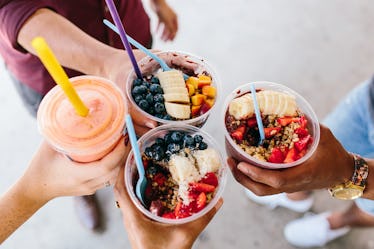 11 Superfoods To Experiment With In 2018 If Your 2017 Diet Was Boring AF
Foodie trends are my favorite trends, but even if you're not actively keeping up with what's hot as far as cooking essentials go, you've probably seen the term "superfood" get tossed around on Instagram, Pinterest, and maybe even your favorite cooking shows. For starters, pay close attention to your social feed; there was an abundance of must-have ingredients that took over the web and grocery lists of 2017. From spirulina powder to moon milk, there are countless superfoods to try in the new year if you're looking to spruce up an otherwise bland palate and upscale meals that maybe aren't as healthy as they could be with a few minor tweaks.
Obviously, not everyone cares about being "on trend," but you probably should care about the kinds of foods you're putting into your body, and how exactly these snack foods and full-course meals are nourishing your body (if at all). Social media influencers tend to entice their audiences to try superfoods by heavily focusing on how pretty their eats are, but aesthetic alone doesn't define these foods as "super." They stand apart from other good-for-you foods because they're loaded with antioxidants, they're anti-inflammatory, and they contain all-around medicinal, nourishing properties that keep you satiated, for one, but also really healthy in the long run.
So whether you're doing it for the 'gram or looking to better your meals in terms of taste and long-term benefits, here are some of the best superfoods of 2017 to sample in the new year.