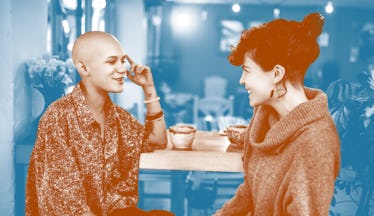 These Indoor Fall Activities Are For Couples Who Need S'more Date Ideas
MStudioImages, Getty Images
Fall is officially cozy season. It's all about sweater weather, cuddling up extra close to your SO, and having a pumpkin spice latte in hand on the daily. Truly embrace the chill vibes this year and plan a few indoor fall activities for couples with the person who warms your heart the most. While going apple picking and getting lost in a hay bale maze are always fun fall things to do, this year, you're looking to pumpkin spice things up closer to home.
Take your usual date night plans and sprinkle some of that autumnal magic to the mix. Instead of wine and paint night, make it a wine and paint-a-pumpkin night for Halloween. Don't just watch the game on TV, either. Have a cook-off in the kitchen and tailgate from the comforts of your living room. You can even turn your typical Netflix nights and make them cozier than ever with a spooky theme and tasty treats.
Of course, you love the traditional fall activities, but it's time to make them feel brand new. So, if you're looking for something to do at home that's totally fresh, try any of these nine indoor fall activities. They're perfect for a couple who's looking for a gourd time.