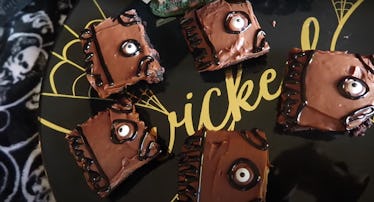 12 Disney Halloween Recipes You Can Make At Home For A Spooky Good Treat
It's time to start streaming The Nightmare Before Christmas on Disney+, because "this is Halloween." If there's one thing Disney knows best, it's how to celebrate All Hallow's Eve in style with great movies and the most delicious, Insta-worthy treats. With that in mind, it's time for you to plan a movie night with your roomies to get in the spirit of the season ASAP. Along with a lineup of Halloween classics, you need to try some Disney Halloween recipes based on some of your favorite villains and spooky characters.
October is the time to side with the villains and listen to "Poor Unfortunate Souls" and "Be Prepared" on repeat. You can't wait to watch Hocus Pocus for the millionth time with your besties, so make some spell book brownies to enjoy while the Sanderson sisters cause havoc Salem. Pretend you're spending Halloween at "The Happiest Place on Earth" by making your very own candy apple that looks like something you'd find in the bakery on Main Street.
If you're looking for something savory, try whipping up Sally's soup from The Nightmare Before Christmas or a Jack Skellington-themed black bean dip. This list of 12 Disney Halloween recipes has something for every festive occasion you might have planned, so bon appétit to a very tasty Halloween.