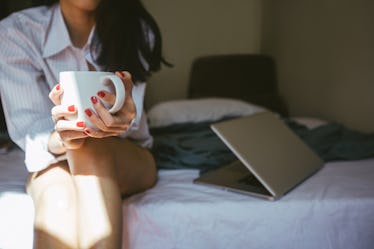 8 Morning Struggles You Only Understand Once You Have Your First Job
Landing your first job can be so exciting. After college, you want to make your passion your paycheck, and tend to put a lot of focus on finding a position that's the perfect fit. You've spent the past four years or so working towards that degree, which came with a lot of long nights in the library. But, not following your dreams may stress you out even more, so you hustle even in those jobs that are just stepping stones to whatever's next. There are some struggles in the morning that you understand all too well now that you're a working girl. Waking up and facing a full day isn't just for Mondays, and you're always pouring more coffee in your cup.
The job search was a struggle within itself. It was a pretty big deal when you got an interview, and your first day at the office felt kind of like a first day of school — hopping on the bus for school and unsure of what to truly expect. You set your alarms a little earlier than usual, and put on your favorite outfit for the office, too.
By now, you've probably found your coffee order, and fallen in love with your planner and casual Fridays. You have a few friends who make the work week so much better, and who understand your morning struggles just the same. These eight things can be all too real when you've landed your first job and are being an "adult."