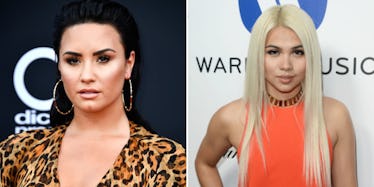 8 Imaginary & Rumored Celebrity Couples That Need To Happen ASAP For The Fans
Getty/Frazer Harrison + Getty/Matt Winkelmeyer
Anyone who knows me, knows I get pretty into "shipping" couples. The first couple I remember shipping was Lizzie and Gordo from Lizzie McGuire. At the time, I didn't even know what shipping was or meant, but I knew I loved watching the two together and rooted for them. As I've grown, I've picked up more couples to ship – both rumored celebrity couples and fictional ones. Some of my favorite pairings include: Nick Jonas and Miley Cyrus (Niley forever, don't even try me), Troy and Gabriella from High School Musical, and Harry Potter and Draco Malfoy from the Harry Potter series (if you aren't a Darry fan, please leave). And while some of the fictional pairings I enjoy may seem strange to some, it has always been fun to get lost in my imagination and think of what could be.
In addition to the strange couplings I see in my mind, there are actually some weird real-life celebrity couples that are dominating the news cycle right now. Priyanka Chopra and Nick Jonas, Ariana Grande and Pete Davidson, and Nicki Minaj and Eminem all are pairs that make me question how they're together. But in honor of those seemingly random pairs, I've decided to think up some other celebrity couples – both rumored and completely out of left field – that would be interesting if they were to get together.
If any of these couples do get together and publicly announce their relationship within the next week or so, I'd like to take full responsibility. If they marry, I call dibs on officiating their wedding – just call me the next Chris Harrison. Let's make it happen, people!