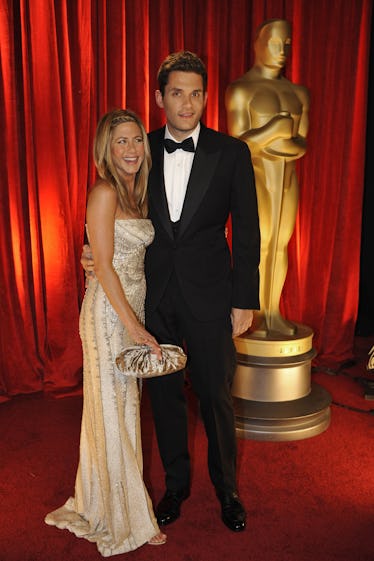 The Most Surprising Celebrity Couples To Ever Walk The Oscars Red Carpet
The 90th annual Academy Awards will take place on Sunday, March 4, and viewers have a lot to look forward to. Films such as Call Me By Your Name, Lady Bird, and Get Out have been making headlines since before they even hit theaters, and now they are all in the race for Best Picture. Arguably the highlight of the show takes place before the ceremony even begins, however, when Hollywood's best and brightest walk the Oscars red carpet. There are standouts every year in the categories of best and worst dressed, hottest celebrity couples at the Oscars, and more. The plus ones that celebs choose to bring to the Academy Awards are occasionally more surprising than the film that ultimately wins Best Picture.
This list includes high-profile celebrities who you completely forgot were ever together — the fact that Gisele Bündchen walked the red carpet with someone other than Tom Bradly is shocking, I know. And there are also couples you dearly miss (Zefron forever, am I right?) and unexpected pairings of a non-romantic nature. For one reason or another, these nine Oscars couples all went down in awards show history — here's why.
1. Jackie Chan And Two Stuffed Pandas (2017)
Last year, Jackie Chan attended the Oscars with not one, but two furry dates. As a show of support for Chinese pandas, Chan brought two stuffed animals to the red carpet. One bear wore a UNICEF pin as a nod to the United Nations' organization that appointed Chan as a goodwill ambassador back in 2004. He told Ryan Seacrest, "I'm the ambassador of [the] panda. After an earthquake, they got hurt and I raise them. I have two pandas in China, my own. They go wherever I go." I'm not crying, you're crying.
2. Sacha Baron Cohen And A Jar Of "Ashes" (2012)
Sacha Baron Cohen (Borat, Brüno) made headlines of a different kind when he dressed in character as Admiral Aladeen to promote his film, The Dictator at the 2012 Oscars. The costume included an urn full of ashes, which were supposed to belong to Kim Jong-il, though they were later reported to be pancake mix. As part of the publicity stunt, Baron Cohen spilled the ashes on Ryan Seacrest during a red carpet interview. There were rumors that Baron Cohen was asked not to attend the actual ceremony, but the choice to leave early was reportedly his own.
3. Jennifer Aniston And John Mayer (2009)
Before Jennifer Aniston and Justin Theroux, there was Jennifer Aniston and Brad Pitt. But somewhere in between those high-profile marriages, Aniston also dated John Mayer. The two were in an on-again, off-again relationship for about a year between 2008 and 2009. They hit the 2009 Oscars red carpet together as a couple, as well as the Vanity Fair after-party.
4. Vanessa Hudgens And Zac Efron (2009)
The couple that you've been shipping since the days of High School Musical attended the 2009 Oscars together, although neither one of them were nominees. The former costars were on the Oscars stage that night, as part of a musical number with host Hugh Jackman (who Efron later starred alongside in The Greatest Showman), Beyoncé, and Amanda Seyfried. Efron and Hudgens split back in 2010, and Hudgens has been with current boyfriend Austin Butler since 2011.
5. Leonardo DiCaprio And Gisele Bündchen (2005)
In addition to her successful career as a supermodel, former Victoria's Secret Angel, and occasional movie actress, Gisele Bünchden is also well known for being married to New England Patriots quarterback Tom Brady. Back in 2005, however, Bünchden accompanied long-time boyfriend Leonardo DiCaprio at the Oscars. DiCaprio was a second-time nominee, that year for his role in The Aviator. He would later be up for four more Oscars before finally winning his sixth nomination in 2016 — Best Actor, The Revenant.
6. Matt Damon, Ben Affleck, And Their Moms (1998)
In 1998, besties Matt Damon and Ben Affleck invited their moms instead of their girlfriends (Winona Ryder and Gwyneth Paltrow, respectively) to be their red carpet dates. Affleck joked about it in 2017, saying, "We did take our moms, which only fueled rumors of our sexuality." Whatever the reason, Chris Affleck and Nancy Damon were there to celebrate when their sons won the Best Original Screenplay Oscar for Good Will Hunting that night. Stars like Dev Patel and Lin-Manuel Miranda followed suit years later, bringing their mothers as dates to the most recent Oscars in 2017.
7. Courtney Love And Amanda de Cadenet (1995)
It may have happened when you were too young to remember (or two days before you were born, like me), but the 1995 Vanity Fair Oscars party was reportedly a legendary event. Courtney Love and her close friend Amanda de Cadenet dressed in matching plastic tiaras, ivory gowns, and red lipstick. Love joked that their look was "called gorgeous lesbians in $20 dresses." Love and de Cadenet also shared a kiss for the cameras that night.
8. Nicole Kidman And Tom Cruise (1991)
Nicole Kidman has been with husband Keith Urban for so long that it's easy to forget that she was first married to Tom Cruise. The then-couple posed together at the 63rd annual Academy Awards. They later played two lovers in a complicated marriage in Stanley Kubrick's Eyes Wide Shut (1999), but the two were all smiles in this photo from '91. While they've both moved on, there's no denying that they made a gorgeous match. They even have two adopted children together.
9. Madonna And Michael Jackson (1991)
In one of the most iconic Oscars moves of all time, Madonna surprised everyone by bringing Michael Jackson as her date to the ceremony in 1991. The possibility that two of the world's biggest pop stars were together was certainly news, but their "romance" barely lasted more than a week. According to People magazine, Madonna arranged the appearance to bring publicity to an upcoming documentary of hers. The two were also reportedly planning a duet. The song was never recorded, due to creative — and, allegedly, personal — differences.
The stars at this year's Oscars have a lot to live up to. Will there be any red carpet surprises? I, for one, can't wait to tune in and find out.