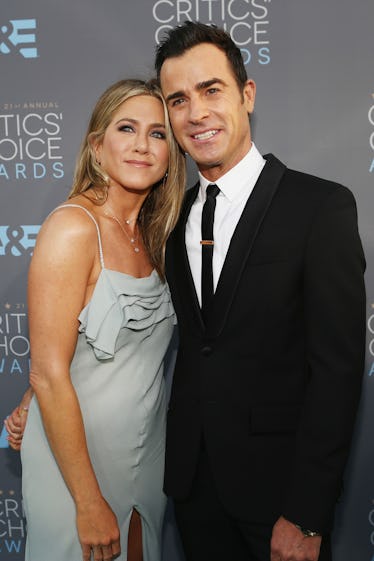 This Detail About Jennifer Aniston & Justin Theroux's Split Is Actually A Relief
Christopher Polk/Getty Images Entertainment/Getty Images
Whenever celebrities break up, people assume cheating has to have been involved. I mean, don't get me wrong, people cheat all the damn time, but it's not the case for every celebrity couple. After Jennifer Aniston and Justin Theroux announced their split, some people might be wondering: Did Justin Theroux cheat on Jennifer Aniston? It's not surprising some people are wondering if cheating caused them to go their separate ways, given how Aniston's marriage to Brad Pitt ended. But Theroux isn't Pitt and his marriage to Aniston was completely different, so thinking cheating must be involved just because it was involved last time is missing the mark.
A source told Us Weekly that the decision to split came from a place of love between Aniston and Theroux — no cheating involved. "The split is very mutual," the source said. "They truly want each other to be happy and wish the best for one another. Cheating is not the reason for the split and did not happen." Elite Daily reached out to Theroux and Aniston's teams for comment but did not hear back by the time of publication.
It read,
In an effort to reduce any further speculation, we have decided to announce our separation. This decision was mutual and lovingly made at the end of last year. We are two best friends who have decided to part ways as a couple, but look forward to continuing our cherished friendship. Normally we would do this privately, but given that the gossip industry cannot resist an opportunity to speculate and invent, we wanted to convey the truth directly. Whatever else is printed about us that is not directly from us, is someone else's fictional narrative. Above all, we are determined to maintain the deep respect and love that we have for one another.
They still spend time together following their December split, however. Aniston and Theroux reportedly met up in L.A. on Valentine's Day, just days before their split announcement was made. To anyone who saw, it probably just looked like your average couple doing something for Valentine's Day. But People reports this was when the exes decided to officially announce their split. "They saw each other late at night on Valentine's Day in L.A.," the source said. "They decided together that they would make the announcement the next day. Justin flew on a private jet to L.A. to see Jen one last time."
They noted that Aniston wanted to delay making the announcement as long as possible because she reportedly (and justifiably) didn't want the swarm of media attention that would come after. (You could write a thesis on how mistreated Aniston was/has been in tabloids ever since her 2005 divorce from Brad Pitt.) The source said, "Jen didn't want to announce it for as long as possible, because she wanted to avoid the media attention." But Theroux was apparently ready to move past the split and wanted the announcement made sooner so everything was done. The source added,
Jen hoped that Justin would be low-key on her birthday so people weren't wondering why he wasn't with her. But that's not Justin's style. He wanted to make the announcement so he can live his life.
The source also told People that the split was a long time coming due to them being such different people, but they noted Aniston had hoped they could make it work. One of their issues, according to People, was that Aniston loves her life in L.A. and feels very settled there, but Theroux isn't as happy in California and prefers New York City instead. This is apparently just one of the differences that put a strain on their marriage. "It seems Justin gave up many months ago," they said. "For the past few months, he has spent very little time in L.A. Jen very recently started telling people that they were over. She seems OK now, but was still hoping as of a few weeks ago that they could figure things out."
So if you see anyone making conspiracy theories about Jennifer Aniston and Justin Theroux cheating on each other, go ahead and shoot those ideas down because that's just not how things went down.