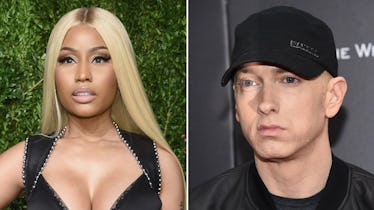 Nicki Minaj & Eminem's Lyrics About Each Other Prove Their Chemistry Goes Way Back
Dimitrios Kambouris & Michael Loccisano/Getty Images Entertainment/Getty Images
I have something to confess: I liken myself to Nicki Minaj in a lot of ways. We both love makeup, we're both great rap artists, and we both may or may not be into Eminem. (Seriously, the jury is still out with me. I can never decide.) The artists have been engaging in a massive game of "Will they? Won't they?" that's recently whirled up into epic proportions in the media. Both players have teased they might be seeing each other, leaving some fans asking "Huh?" and other's shouting, "OH YES!" The truth is Nicki Minaj's and Eminem's lyrics about each other prove their history goes way back, and the likelihood of these two finding an organic romance isn't that small.
Let's go back. The year is 2010. Donald Trump was just the host of a sh*tty TV show. The world was a simpler time. Nicki Minaj's "Super Bass" was about to take over the world and she was an Eminem fan. Minaj told MTV News she took a risk and asked him if he'd be open to collaborating with her. She explained, "I sent him one record, and he didn't love it. He didn't say, 'I don't love it.' He just said, 'Can you send me something that's a little more me?'" Minaj continued, "I sent him an email and thanked him for that, just having enough respect. Sometimes people don't respond. He had the respect, at least, to treat me like a peer." Out of that email birthed the track "Roman's Revenge," and thus began a great lyrical relationship.
2011: Eminem references Minaj in a song titled "Fast Lane."
In 2011, Eminem and Royce da 5'9" released an album titled Hell: The Sequel, which included one super specific and erotic lyric about Minaj on a track called "Fast Lane." The words are a little too graphic to type out on my sweet, innocent keyboard, but it has something to do with Eminem wanting to put his eggplant emoji in Minaj's peach emoji. Some women might have gasped at this move, but Minaj simply began gearing up for her response.
2013: Minaj called Shady out on Ciara's track "I'm Out."
Two years later, Minaj snuck a quick line geared at Slim on her collaboration track "I'm Out" with Ciara. The song is an epic women's anthem that I'm somehow just now discovering, and Minaj spits the lyric, "Man, f*ck you and your lady, gun butt you, 'cause you're Shady."
Get it?! "Shady" like the adjective but and also Slim Shady like the man?
GUYS, I LOVE RAP. CAN'T SAY IT ENOUGH.
2014: Eminem makes nice in a song titled "Vegas."
If it was unclear to fans before if their banter was playful or aggressive, Shady cleared it up when he showed he and Minaj are in cahoots on Bad Meets Evil's track "Vegas."
Shady raps, "You're lucky just to follow my ride/ If I let you run alongside the Humvee / Unless you're Nicki, grab you by the wrist, let's ski," essentially saying most people aren't cool enough to hang with him, but Nicki is. Obvi.
2018: Minaj claims she "bagged an Em" in the track "Big Bank."
Over the years, Minaj and Shady have had on-again, off-again banter, and even subtly began shouting each other out on social media. Then, after a few quiet years without direct songs towards one another, Minaj brought Slim back into her lyrics in YG's song "Big Bank."
Minaj collaborated on the track with 2 Chainz and Big Sean and give Eminem a big ol' shout out in one of her verses. She raps the lyrics: "Back to the Maybach, stack the M's / told em I'm met Slim Shady, bagged a Em / once he go black, he'll be back again."
She also referenced this line in an Instagram post announcing "Big Bank" is out now. Her caption was: "#BIGBANK OUT NOW!!!!!! @yg @2chainz @bigsean 🔥🔥🔥🔥🔥 Told'em I met Slim Shady. Bagged a EM!!! 🤑💵💸"
The accompanying Instagram video is super fun and her skin is impeccable.
All of this to say - YES, EMINEM AND NICKI. PLEASE DO DATE. IT'D BE A BABY MADE IN RAP HEAVEN.
Also, I'm available too. Nicki, if you wanna call me, I'm sure my public information is alarmingly accessible.
Check out the entire Gen Why series and other videos on Facebook and the Bustle app across Apple TV, Roku, and Amazon Fire TV.