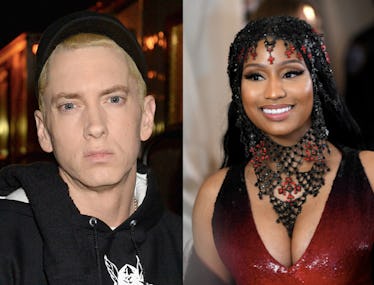 Nicki Minaj Confirmed She's Dating Eminem & Literally No One Saw This Coming
Getty/Getty
We all know that Instagram is the place to go to confirm that your ex is dating someone new. Apparently, Instagram is also the place to go to confirm that Nicki Minaj is dating Eminem. Yes, for real. In a random but awesome move, Nicki Minaj has confirmed to a fan that she's dating Slim Shady via a comment reply on the social media platform. Um, what is 2018?
The 35-year-old rapper posted a video to her Instagram account to promote YG's new single "Big Bank," which she features on along with 2 Chain and Big Sean. Her caption reads "Told'em I met a Slim Shady. Bagged a EM!!!" which is a lyric from her feature on the track.
As if the triple-exclamation point wasn't enough to light the internet on fire, when an incredibly straightforward fan commented "You dating Eminem???" with triple-question marks, Nicki replied "yes." SO CASUAL! Also, I love that this follower probably asked this question expecting zero reply, but then exploded the internet. Elite Daily has reached out to both representatives for comment; Nicki's was not immediately available and Eminem's has yet to reply.
The video itself displays Nicki lip-syncing to the song's lyrics, "Tack to back Maybach, stack the M's, told em' I met Slim Shady, bag the M. Once he go black, he'll be back again." And when do we get a Slim Shady lyric about Barbie, huh?!
Before Nicki's comment confirmation, fans were wondering who the rapper was dating. A lyric from her recently released "Barbie Tingz" had fans wondering just who Nicki was hanging out with: "I'm still fly, just bagged a white guy. Ritchie like Guy and I still eat Thai." Some fans were bothered by this lyric, citing "bagging a white guy" as a brag to be problematic.
The rappers have teamed up before, in 2010 on Minaj's track "Roman's Revenge," which featured Eminem, 45. And in 2011 at the 53rd Grammy Awards in Los Angeles, Nicki presented Eminem with the Best Rap Album Award for Recovery. Hmm, I wonder when this relationship turned romantic?
While the relationship is a strange one, dating a rapper is not off-brand for Nick. In the past, she's has been linked to other rappers, most recently Nas, whom she split from in December 2017 after six months of long-distance dating. She also dated rapper Meek Mill for two years from 2015 to 2017.
Last year in an interview with Ellen DeGeneres, Minaj said: "I'm just chilling right now, I'm celibate. I wanted to go a year without dating any men, I hate men. But I might make an exception to the rule for him," referring to Nas.
But Eminem's dating history is far more private, you know, aside from his much-rapped about ex-wife Kimberly Scott. (Oh boy, remember that?) In a 2017 interview with Vulture, Marshall Mathers explained, "Since my divorce I've had a few dates and nothing's panned out in a way that I wanted to make it public. Dating's just not where I'm at lately." Hmm, sounds like a certain woman who spoke on Ellen's show...
In the same interview, when David Marchese asked Eminem if he used Tinder, he replied, "I mean, yeah," before adding that he also used Grindr. And met women at strip clubs. So who knows! But if Nicki and Eminem met on Tinder, I'm fully here for it.
Interestingly enough, Em was not Nicki's date to the Heavenly Bodies-themed Met Ball this on May 7, 2018, which is a shame, because I would have loved to see his interpretation of the theme.
We will have to stay tuned to see what this relationship is all about... but I have a feeling it's going to lead to some excellent lyrics.