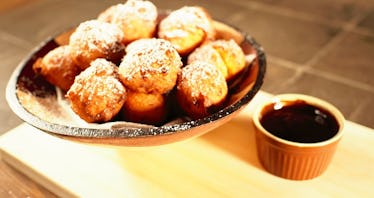 8 Easy Thanksgiving Leftover Recipes For When You Want To Play The Holiday On Repeat
What's better than Thanksgiving dinner? Two Thanksgiving dinners, that's what. If you end up cooking way too much food, don't fret, because it happens to the best of us. Thanksgiving leftovers are kind of like a tradition, anyway. The go-to is a reheated turkey sandwich, complete with cranberry sauce and stuffing, but you can take it to the next level and get creative with some easy Thanksgiving leftover recipes. This way, it really does feel like the holiday is repeating itself. You'll be reaping the rewards of a second Thanksgiving dinner in no time.
Unlike Thanksgiving day, when you're working hard in the kitchen for hours on end, you already have all of the ingredients ready to go. The cooking time is most likely cut in half, and you have more time to get to the store to scope out the good deals on Black Friday. You don't even have to look up recipes, because we've assembled these eight Thanksgiving-inspired tutorials to try out. They're perfect for anyone who is feeling lazy AF after eating all of that turkey.
I don't know about you guys, but I'm getting hungry just thinking about these leftovers. It's true there's always something to be thankful for. For me, in addition to my family and friends, it's preparing more than one Thanksgiving feast this year.