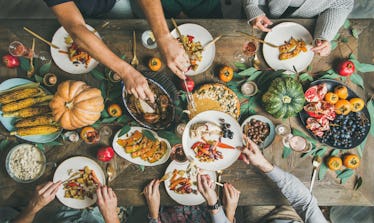 8 Easy Instant Pot Thanksgiving Recipes On TikTok Including Turkey And Cranberry Sauce
Now entering fast feast mode.
Shutterstock
We're rolling in on Thanksgiving, and if you're the one doing the cooking, you already know how important it is to prep. There are sides, rolls, veggies, and of course, the turkey, to cook, and trying to get it all done and on the table is no small feat. To make it easier on yourself, check out these Instant Pot Thanksgiving recipes that take a fraction of the time to make.
Everyone loves to make their favorite Thanksgiving recipes the way their family makes them. Here's the thing, though. Thanksgiving food is great and all, but the holiday is really about spending time with the people you love most, even if stuffing and pumpkin pie are close contenders. That means the sooner you get the meal on the table, the more time you get to spend hanging out, watching football, or playing family charades. Luckily, the Instant Pot is such a brilliant appliance that you won't even notice the difference with your favorite Thanksgiving dishes.
Not only can you can sauté, fry, pressure cook, and so much more, but a lot of Thanksgiving Instant Pot recipes also require no prep at all. Just pop in all the ingredients, set the timer, and let the appliance do its thing. It's that simple. You can even sneak in a card game or two while your meal is cooking.
Tthe best part is that you can cook just about anything in the Instant Pot, including all your favorite Thanksgiving sides, appetizers, and desserts. Check out some of these easy TikTok recipes to help you prep for the big day.