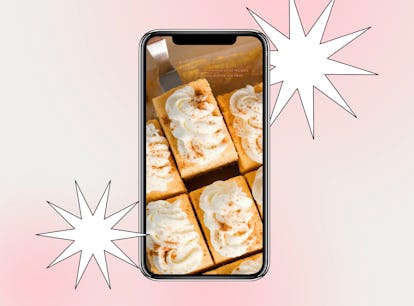 9 Tasty Pumpkin Recipes For Thanksgiving That Are Anything But Pie
Spice things up this year at Friendsgiving.
The smell of your Thanksgiving feast cooking during the day is almost as good as the spread itself, and pumpkin can add a festive aroma to your home. Not only is it an autumn staple, but pumpkin can be used in a variety of dishes — not just pie and PSLs. Playing around with a few unique pumpkin recipes for Thanksgiving can even be a fun way to spice up your spread and surprise your guests with something new.
Pumpkin usually gets its maximum shine time once a year, so you definitely want to incorporate it in your Thanksgiving or Friendsgiving festivities. Sure, pumpkin pie is an obvious choice, but there's so much you can do in the kitchen. For instance, you could make pumpkin cheesecake for a dessert that is easier to grab and go at a potluck with all your friends, or try a savory pumpkin dish like roasted fries on the side of your sliced turkey.
Even if you aren't the head chef in charge, whipping up a side dish with pumpkin is still an option. You may even get some major props for adding a festive flare to the holiday gathering by bringing in a dish no one's tried before, so really think of the pumpkin as an untapped source of wanderlust that you need to explore for Thanksgiving this year. Need a little bit more inspiration? Here are some pumpkin recipes, from savory to sweet, to help you decide which dish you want to make for your gathering this year.
Don't sleep on pumpkin this year and place it only in a delicious pie. Pumpkin has a lot more potential if you're willing to give it all you've got.
This article was originally published on