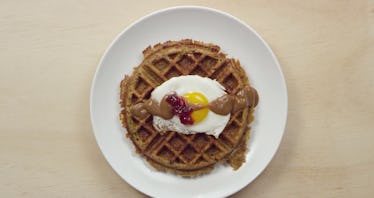 8 Leftover Thanksgiving Recipes For Breakfast You'll Like A Waffle Lot
When November rolls in, every day is basically just a countdown to our favorite feast of turkey, stuffing, and pumpkin pie. Our eyes are usually bigger than our stomachs, and that's how we end up with probably more food on the table than we can ever imagine actually eating in just one sitting. That is why Thanksgiving leftovers have become just as much a Thanksgiving tradition as the dinner itself. You could always heat everything up the next day for another round of the same thing, or you can get creative with some leftover Thanksgiving recipes for breakfast.
A leftover turkey sandwich is great and all, but a leftover turkey waffle is even better. Breakfast is the most important meal of the day anyway, so why not make it extra special with your Thanksgiving leftovers? These eight recipes are super easy and utilize almost everything you have in your fridge from the day before. The ingredients are all ready to go, so you don't even have to spend any more extra time in the kitchen (we know you already did that on Thanksgiving). So, fuel up for your Black Friday shopping with an awesome breakfast utilizing everything you wanted to eat the night before, but just weren't ready for yet.