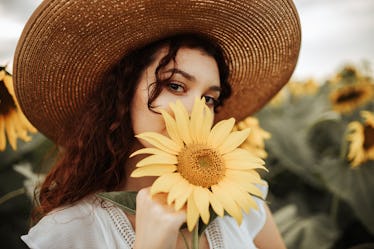 8 Fresh Sunflower Pics To Take At Home That'll Make Your End Of Summer Bloom
matrixnis/E+/Getty Images
The end of summer may be your favorite time of the year because there are sunflowers everywhere. Bright yellow buds are displayed next to the front door of your local grocery store, wrapped up in brown paper. When watering your fresh garden, you have to look up to them because they're incredibly tall and make you dream about creative sunflower pictures to take in your backyard.
Truth be told, you've thought about setting up your camera on a tripod while you hold a bloom over your face in the corner of your yard for an IG and Pinterest-worthy sunflower picture. You've closed your eyes to imagine a scene where you're holding one of the flowers up in the blue sky, only connected to it by its stem. It's all good, because dreamy pics for your feed are one of the things sunflowers were made for.
It's prime time to channel your artsy side. Put your phone or camera on self-timer mode and be creative with the ideas already floating around in your head. Of course, if the final photo isn't exactly what you were hoping it'd be, you can try out one of these eight creative sunflower picture ideas. Whatever you do, be sure to brighten up your feed with a cheerful yellow snap before summer's over.